Li Haoyi, Prime Minister Lee Hsien Loong and Temasek CEO Ho Ching's youngest son, is crowdfunding through the Patreon platform and is looking for willing patrons to support his work by contributing a monthly sum to him.
Patreon is a crowdfunding platform where content creators can ask others to support them by subscribing to a monthly donation plan and sending them a monthly sum in order for the content creator to continue their work. Li Haoyi currently has 75 patrons.
A software engineer, Li Haoyi has created and maintained several open-source coding libraries. He also maintains a well-known blog on coding that has earned a reputation for being the go-to source for best practices in Scala programming.
Li Haoyi is asking people to "please chip in to support the work and make sure the projects you use can continue to be maintained and provide value to you for the foreseeable future!" To support his work, patrons can contribute a monthly sum of S$5, S$25, S$125 or more.
According to Li Haoyi's Patreon page, those who contribute between S$5 and S$24 each month are essentially buying him "a beer as thanks for my open-source libraries". He says that those contributing a monthly sum of between S$5 and S$24 can "feel good about contributing something to the open-source Scala world."
Li Haoyi considers those who donate between S$25 and S$124 are donors who are buying him "dinner as thanks for my open-source libraries". He says that those contributing a monthly sum of between S$25 and S$124 can "give something back for all the time that my open-source libraries have saved you."
Finally, Li Haoyi offers to give those who contribute S$125 or more a month "a shout-out on twitter as thanks!"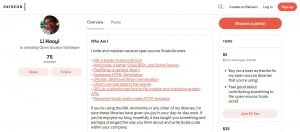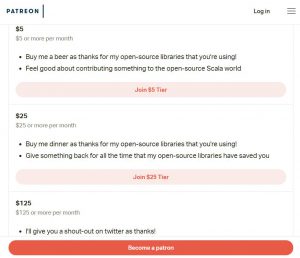 Li Haoyi, who is one of founding Prime Minister Lee Kuan Yew's grandsons, is presently based in Singapore and has been working as a Staff Software Engineer for Databricks since September 2017.
Before that, he was employed as a Software Engineer by Dropbox in San Francisco, where he worked from June 2013 to October 2016. An electrical engineering and computer science graduate from the Massachusetts Institute of Technology (MIT), Li Haoyi has interned at Facebook and Dropbox before joining the workforce as a professional.
Send in your scoops to news@theindependent.sg