Update: According to Associate Professor Lim Beng Soon, Head of Programme, Malay Language & Literature at SUSS:
Business Malay is learning Malay language for use in business and/or workplace. The term Business Malay is similar to the commonly used terms of Business English and Business Chinese.
 So Business Malay is basically Malay language knowledge for business use.
 There is a need for this knowledge as more Singaporeans are venturing to Malaysia and Indonesia for business.  The course will train participants in Malay Language and also in soft skills such as being culturally sensitive/intelligent when dealing with counterparts from the Malay archipelago.
An unconventional heading on the Singapore University of Social Sciences (SUSS) website has piqued the curiosity and amusement of netizens. Under the list of programmes offered by SkillsFuture to its students is a course called 'Business Malay'.
https://www.facebook.com/SinkSpore/photos/a.1577409242280804/2040251125996611/?type=3&theater
On Facebook, netizens shared a screenshot of the webpage, along with the caption 'wad is business malay'.
According to the SUSS website, "The objective of this course is to raise awareness of the language and socio-cultural context of doing business in a Malay-speaking region".
Apparently, the explanation for the course reads as such: "At the heart of a good business strategy when doing business in another country is communication competence. Communication is more than just language. It includes an understanding and appreciation of cultural differences and social norms, and involves culture-sensitive business etiquette."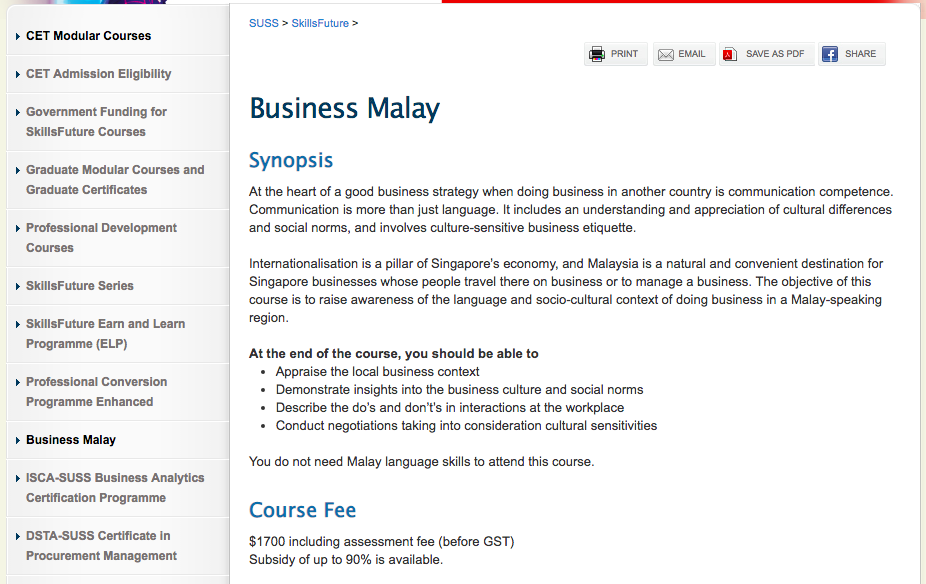 The website also added that at the end of the course, one should be able to, "Appraise the local business context, demonstrate insights into the business culture and social norms, describe the do's and don't's in interactions at the workplace [and] conduct negotiations taking into consideration cultural sensitivities".
It is also stated that thought the course is titled 'Business Malay', one does not need Malay language skills to attend it.
Well, what exactly does 'Business Malay' mean?
________________________________________________________________________
obbana@theindependent.sg
Follow us on Social Media
Send in your scoops to news@theindependent.sg