Singapore—In attitude, Charlotte Chia is showing that she is every inch a winner. The country's candidate for the Miss International beauty pageant has turned a blind eye on her critics and is refusing to let negativity get her down.
Ms Chia, a graduate from the University of Sydney, evidently has her eyes on the prize, despite unkind remarks about her looks, and has said on Instagram that she is unaware of these unflattering comments and comparisons to the candidates from other Southeast Asian countries.
Because of this winning attitude, Ms Chia has garnered support from netizens, some of whom are not even from Singapore.
One such supporter told her on Instagram, "Ignore the critics. Go do us proud."
She replied, "Thank you!! ?? I actually didn't know they existed until now so truly: outta sight outta mind."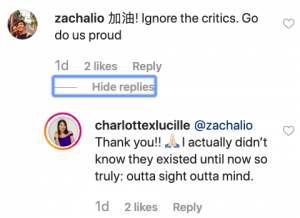 The beauty queen told another of her supporters to not mind what the critics were saying. @ericchung33  had written, "i saw those comments & I am speechless."
She breezily replied, "@ericchung33 Ahh don't mind them! Thanks for the support!!"
Another fan wrote, mynameisstix13 "I support you though i am not a local nor Pr here. The crown will be yours! I will pray for you ?"
She graciously replied, "@mynameisstix13 Thank you for supporting me! Regardless of your status as a Singaporean or otherwise it means a lot to me. ????"
On October 4, the Facebook page All Singapore Stuff posted a collage of the photos of the different Miss International candidates from some ASEAN countries. While netizens praised candidates from Malaysia, Vietnam, and the Philippines for their looks, remarks about Ms Chia were considerably less flattering.
Some netizens said maybe "good-looking" Singaporean girls don't care about joining beauty pageants. Another netizen called her "not…the prettiest among all," but said he still supported her.
Others had even more harsh criticism, with one commenting that her face is "very ordinary" and "her mouth is too large," and adding that they would be very surprised if she wins.
Others called her looks "below average," and said that their domestic helper looked better than her.
But even on the All Singapore Stuff page, netizens rushed to her defense, writing "Y'all can stop throwing shade at this amazing girl who is putting herself out there to represent her country.
Charlotte is gorgeous, smart, eloquent and kind-hearted. She deserves better than all of y'all sitting behind your computer and phone screens and being keyboard warriors."
As for Ms Chia, she seems to be concentrating on what matters, such as the privilege of standing up to fight domestic violence against women.
In her latest Instagram post, she expressed gratefulness for the honor of being a Purple Ribbon Ambassador, explaining, "The purple ribbon badge that I will wear alongside my fellow delegates serves as an 'awareness ribbon', which seeks to represent the hope that one day, there will no longer be any forms of violence committed against women anywhere in the world.
We will have the honour of being appointed by a member of the Japanese parliament on the 28th of October— I am immensely grateful to the Miss International organisation for this opportunity."
She has also written about how thankful she is for her family, especially her mother's support, and that she wants to make them "even prouder."
"My family used to joke about me becoming Miss Singapore when we watched pageants on TV.⠀
Never imagined it would actually happen. ⠀
Today, I want to thank my family— especially my mom who has always been in my corner 24/7. You're always saying that you're proud of me… ⠀
These coming months I want to make you even prouder."/ TISG
Read related: Netizens from Singapore, Malaysia criticize Miss Singapore International contestant ⠀
Netizens from Singapore, Malaysia criticize Miss Singapore International contestant