It appears that some Singaporeans call 995 for the strangest reasons.
Senior Parliamentary Secretary for Home Affairs Amrin Amin took to Facebook on October 13 to appeal to people to not call 995 unless it is an emergency, and in his post he listed the Singapore Civil Defence Force's the weirdest reasons why people have dialled 995.
That certainly got people's attention.
https://www.facebook.com/amrin.page/posts/2190334394587368?__tn__=C-R
The five weird reasons included having a toothache, needing a blood test, sore eyes, a headache, and, perhaps the weirdest of all, someone called 995 because he could not urinate after drinking three beers.
The point of Mr. Amin's post was to emphasize that 995 calls are strictly for life-and-death emergencies only, and that a non-emergency call could cause responders to delay help to someone who might be in urgent need of medical attention.
As he said, "A minute can make a difference between life and death."
He urged people to call 1-777 for a non-emergency ambulance, or to head to a clinic instead, and asked netizens to spread his message.
Emergency responders and medical professionals who treat emergency cases thanked Mr. Amin for his public service post. They also shared their experience with equally strange and non-emergent cases.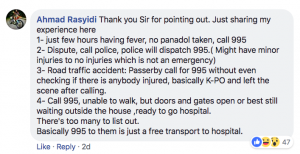 Other netizens made helpful suggestions that to highlight the non-emergency number, since people are prone to call the number they are most familiar with.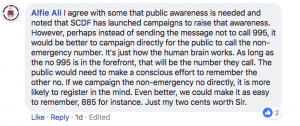 Mr. Amin replied, highlighting the SCDF's campaign to spread the word that 995 is only for emergencies.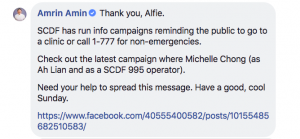 https://www.facebook.com/SCDFpage/posts/10155485682510583?hc_location=ufiFollow us on Social Media
Send in your scoops to news@theindependent.sg