The Tripartite Alliance for Fair and Progressive Employment Practices (TAFEP) has said that it is in touch with vlogger Nuseir Yassin, also known as Nas Daily, over a recent Facebook post in which he said that he is specifically looking for a Vietnamese video producer to join his Singapore-based team.
Nas, who has a worldwide following thanks to his daily minute-long videos, draws mixed views from Singaporeans. Backlash against Nas first arose during his first trip to Singapore last year when some Singaporeans felt that the upbeat videos he made about the nation do not capture the reality of living here.
Nas sparked a massive uproar when he lashed out at Singaporeans and called them "crybabies," after he was criticised for calling Singapore an "almost perfect country" in one such video.
In March this year, Nas revealed that he is moving to Singapore, along with his partner and his entire company. While some Singaporeans welcomed Nas to Singapore, several others were not so happy with his decision. A poll by Yahoo Singapore showed that 57 per cent of over 4,500 respondents did not welcome his move to Singapore.
Nas irked Singaporeans yet again last week when he announced that he is looking to recruit foreigners for a job position based in Singapore. Last Monday (12 Aug), Nas said that he wishes to "hire a Vietnamese person" for his team in Singapore.
He wrote on one of his Facebook pages: "I'm looking for the best video maker in Vietnam to join me in a full-time position. You have to know how to make videos. You have to be the best at shooting or editing."
The post, which has since accumulated over 6,000 likes and over 800 shares, offered a US$500 reward for those who share the post with the person who eventually clinches the job in Nas' team.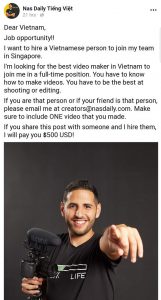 The job listing, however, swiftly drew criticism from Singaporeans who felt unhappy that Nas was not interested in hiring a local video producer for his Singapore-based team.
On Friday (16 Aug), TAFEP said that it is "following up" on Nas' job listing. The national watchdog which oversees hiring and workplace discrimination told Channel NewsAsia: "Regardless of the medium in which the job advertisement is posted, TAFEP expects all employers to abide by the Tripartite Guidelines on Fair Employment Practices (TGFEP), which applies to all Singapore-based jobs."
According to the TGFEP, words and phrases that exclude Singaporeans or indicate a preference for non-Singaporeans "should not be used" in job listings for local jobs.
TAFEP added that the Fair Consideration Framework (FCF) ensures that employers must advertise most jobs on the Workforce Singapore's Jobs Bank for 14 calendar days and give fair consideration to local job applicants before being able to submit applications for Employment Passes.
The only jobs exempt from the FCF are for jobs in companies with less than 10 employees or jobs that pay a fixed monthly salary of S$15,000 and above.
Asserting that TAFEP takes a "serious view" of all forms of discriminatory employment practices that are not in line with the guidelines and that it works with the Ministry of Manpower to take "appropriate action" against errant employers, a spokesman said:
"We strongly encourage employers to refer to TAFEP's website for a list of words and phrases to avoid in job advertisements. Individuals who wish to report discriminatory job advertisements may also do so on TAFEP's website." -/TISG
Send in your scoops to news@theindependent.sg