Reddit user u/random_avocado pointed out that the heavy algae growth covering concrete pavements around HDB blocks in the Woodlands estate were cleared by workers contracted by Sembawang Town Council.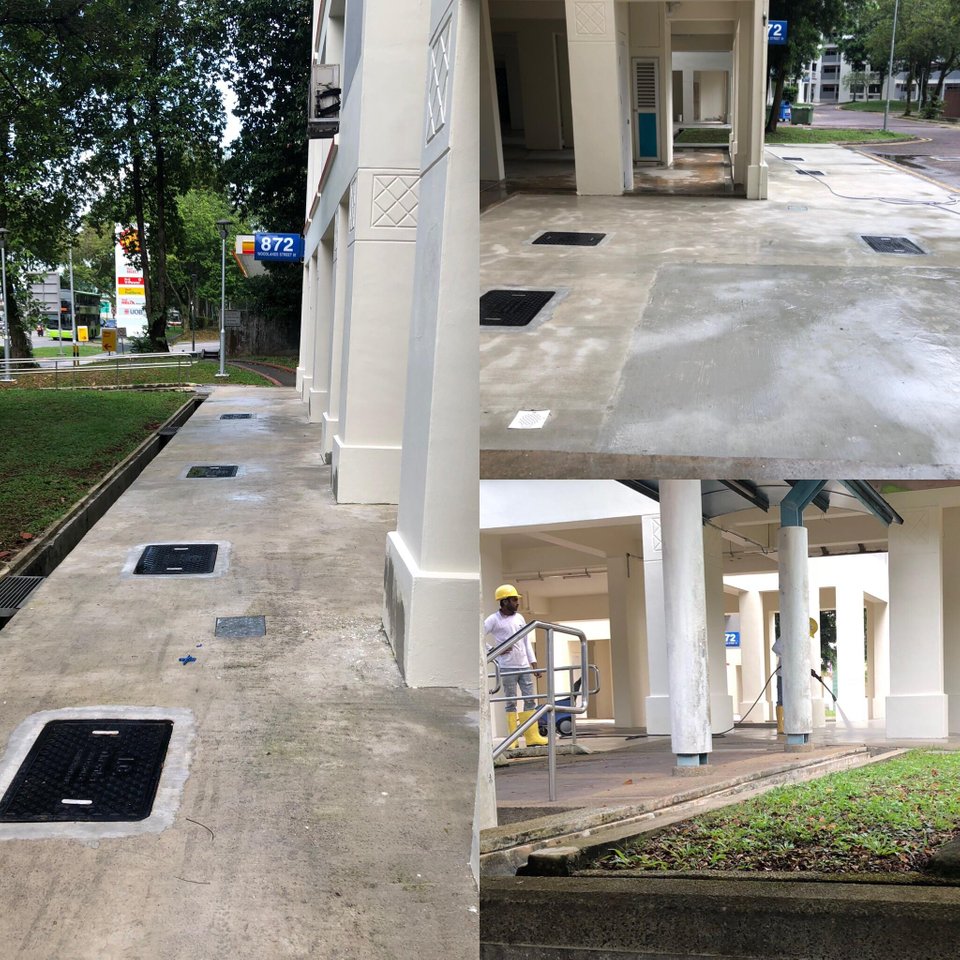 The rectification works were initiated after complaints over the poor cleanliness of the area went viral online. Earlier, photos showing the algae growth covering the concrete pavements around the foot of blocks in Woodlands that were posted on Reddit and Facebook triggered immense criticism against Sembawang Town Council.
Criticism against the town council grew when another Woodlands resident, Facebook user Gnanasegari Rajesh, wrote that the area is only clean when the MPs do their walkabouts and that the area is usually "filthy dirty" despite multiple emails she has sent to the town council:
"I'm a resident from woodlands also. The areas are clean went MP meets residents. I've write emails to town council so many time & for the next few weeks it will be clean then back to square esp near rubbish chute. if yr clothing falls down u can never use it again. filthy dirty."
In a response to the national broadsheet, a Sembawang Town Council spokesman acknowledged that there is algae growth affecting areas near blocks 870 to 882 and blocks 801, 802 and 804 near Republic Polytechnic, before pinning the poor state of the affected areas to "poor workmanship from the re-rendering of the concrete surface."
Re-rendering is a process that involves the hacking of a concrete surface before fresh concrete is reapplied, in order to properly maintain concrete surfaces that are prone to natural deterioration over time.
Revealing that re-rendering works were last done between Oct 2017 and April this year, the town council spokesman said: "We have discussed with the contractor in charge of the re-rendering, and it has agreed to carry out rectification works."
The representative said that the town council has asked the contractor to conduct surface washing more frequently and increase surface washing works from once a month to once every two weeks in the time before rectification works take place.
The town council has reportedly ordered workers to use anti-fungicidal chemicals to slow down algae growth in the meantime, as well.
The Sembawang Town Council is run by five ruling party parliamentarians: Transport Minister Khaw Boon Wan, Education Minister Ong Ye Kung, Senior Parliamentary Secretary for Home Affairs and Health Amrin Amin, Vikram Nair and Lim Wee Kiak. Amrin Amin oversees the area around Blk 872.
https://theindependent.sg.sg/more-algae-growth-on-concrete-pavement-spotted-at-tampines-grc-hdb-block/Follow us on Social Media
Send in your scoops to news@theindependent.sg 
No tags for this post.