The Singapore People's Party (SPP) is continuing its outreach in Mountbatten SMC – the single-member ward it contested in the 2015 General Election (GE) – even after Jeannette Chong-Aruldoss, the candidate who contested the ward in the last two elections, left the party.
Ms Chong-Aruldoss contested Mountbatten SMC under the National Solidarity Party ticket in the 2011 GE. It was a close match but Ms Chong-Aruldoss lost the election with 41.35%. The politician joined the SPP thereafter and contested the same ward as an SPP candidate in the 2015 GE but lost to the incumbent from the ruling People's Action Party.
Ms Chong-Aruldoss, who was a member of the SPP's Central Executive Committee (CEC), announced earlier this month that she resigned from the party. She told The Independent that she has "no plans to join another political party".
The SPP, however, already seems to have moved on. Yesterday, party member Williiamson Lee posted a photo of himself in SPP gear at Mountbatten SMC.
He captioned the picture: "Hello Mountbatten SMC" – indicating that he is walking the ground on behalf of the SPP and could be fielded there during the next election if the electoral boundaries remain the same.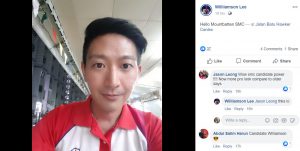 Mr Lee, who has never contested any election, was working closely with Ms Chong-Aruldoss and was one of the SPP members who accompanied Ms Chong-Aruldoss in her walkabouts and community outreach activities in Mountbatten SMC, since at least October 2018.
The Independent has contacted Mr Lee and the SPP for comment and will update this article once we receive a response.
Jeannette Chong-Aruldoss leaves SPP as it gears up for internal elections
Jeannette Chong-Aruldoss has "no plans to join another political party"
84-year-old Chiam See Tong expected to step down as SPP chief to make way for younger leaders