By: Phillip Ang
On 15 July, the government finally announced it would be taking over all "SMRT's operating assets" to allow SMRT to focus on improving its service levels. As to be expected, the well-prepared propaganda is being executed by the MSM to convince the public of this necessity.
When SMRT said "SMRT will still shoulder significant risks, says its CEO", it conveniently ignored the $100 million plus profits generated by its prime properties. It is attempting to hoodwink the public again, just like its 26 "not safety-critical" defective China-made trains.
Under the new rail financing framework (NRFF), SMRT's small profit margin for rail operations will be more or less be guaranteed. There is no real competition between SMRT and SBS Transit because their majority shareholder is Temasek Holdings. Can just go and discuss between themselves what profit margin is required right?
Shoulder significant risks by making guaranteed profits?

SMRT is sitting on super prime properties which alone accounted for $100 million in profits, ie rental – $79.6 million, advertising – 20.8 million.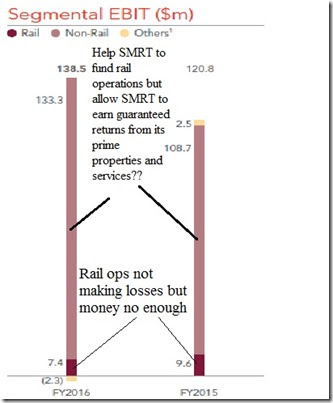 SMRT FY 2016 Annual Report (pg 29)
On the NRFF, MOT Minister Khaw said "This should achieve the twin objectives of raising rail reliability and reducing crowdedness." But we know this is false because if thetrain system was designed for a much lower population, crowdedness could only increase. How does Khaw propose to reduce crowdedness when the government has already decided to increase the population to 7 million and beyond? Talking cock again right?
CEO Kuek claimed that this would "allow SMRT Trains to better focus on fulfilling its role as a public transport operator…". If SMRT couldn't function properly as a public transport operator, the logical thing to do is for the government to relieve it of its non core businesses.
With SMRT's growing non rail profit, currently more than 10 times its rail profit, will SMRT be able to focus on rail operations? Really?
SMRT's top management is also seriously overpaid for their poor performance. Using Hong Kong's "gold standard" MTR for comparison, SMRT CEO was getting about the same pay as his counterpart in HK in FY 2015. However, MTR CEO Lincoln Leong was steering a S$8.3 billion revenue ship vs paper general's S$1.23 billion sampan.
A badly run organisation – ZERO relevant experience military personnel parachuted into key positions – will not magically turn around overnight just because it has been given an additional 1 billion tax dollars. Or for that matter, $10 billion.
The government is trying to project an image of striking a good deal for commuters when in reality NRFF is a gift to SMRT CEO/Temasek Holdings. Annually, hundreds of millions in capital expenditure will be transferred to commuters who are also taxpayers. SMRT will continue to earn a guaranteed profit as far as the eye can see.
Unlike the 70% gullible public, the investment community is not easily hoodwinked and has piled into SBS Transit since months ago. This confirms massive profits for SMRT and SBS Transit akan datang.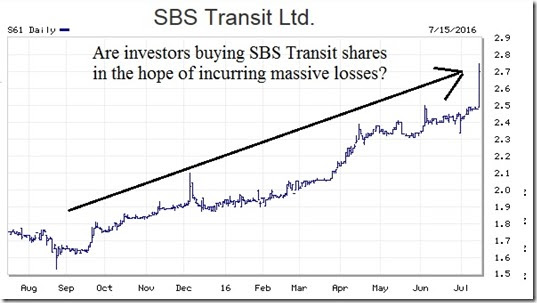 We commuters will soon be paying for train maintenance through LTA's generosity whileSMRT will get to keep all its other profitable businesses. The NRFF is merely a convenient tool for the government to privatise profits and, again, socialise costs.
—
Republished from the blog 'likedatosocanmeh'.Follow us on Social Media
Send in your scoops to news@theindependent.sg