The Land Transport Authority (LTA) has advised commuters that the new extensive security screening trial it rolled out yesterday is "not so mafan". This, in spite of the fact, that hundreds of commuters continue to decry how time-consuming the checks will be, as the trial commenced.
The security screenings will require commuters to undergo extensive security measures before they will be allowed to entered the gantries at MRT stations. Like travelers at airports, MRT commuters will be required to walk through a metal detector and put their belongings through X-ray scanners. Security officers at MRT stations will soon also be equipped with handheld metal detectors to scan commuters.
In a hashtag-ridden Facebook post, the LTA assured commuters that the screenings are not as bad as the "fake news" they read might have led them to believe:
"The 6-month enhanced security screening trial at selected MRT stations started today! Was it really what you have read about? Human jam? Long delay? 

#

SayNoToFakeNews

"Don't fret, it is #NotSoMafan! Security screenings will only be conducted at random MRT stations, and not all commuters will be screened. Selection is random, and the screenings are similar to how bag checks are usually done at MRT stations. #NotAirportChecks 

"Millions of commuters pass through our public transport network every day. We have to remain vigilant and ensure the transport system remains safe and secure for all."
https://www.facebook.com/WeKeepYourWorldMoving/videos/340743933380667/?__xts__%5B0%5D=68.ARCXOaysjdVgs12f54cwZH8UcsScuF1Z1xeyxninASihtAvRjkjC-GG1hiyhzpTlv-IpYbVnUPjWGCnXRl1SiplLBdssIBm0fVBEFpUaUIidoeihVHEbyyv53rkbQJiinYKPsz2wemGEIrpPyC5oJEUv0t8FZAte2Z_FsnbOZjN96MLMSPkNlpA4VOm55YREHjEx-tn-QnjVMWivU2UkzJkGvjpHHjQnFtTEjspP0ZFDSFBKp7GrKkcVAEJxPboi98OV6wbUj8QbsgtWLQ8FZ6dXzBr9lN9jLvvcD4ZchX3I1N02kYYVm0BmY82wYYFQ-gBnsJNmQTbsvDV2_ZGqB3sFOmTY8jWNw8-7pA&__tn__=-R
In spite of the LTA's assurances, commuters remain irritated at the security checks.
While some have said that such checks are important since security cannot be overlooked, many others pointed out that MRT stations are regularly patrolled by officers and said that the authorities should have allocated the resources it gave to this project to improving the efficiency of the train network: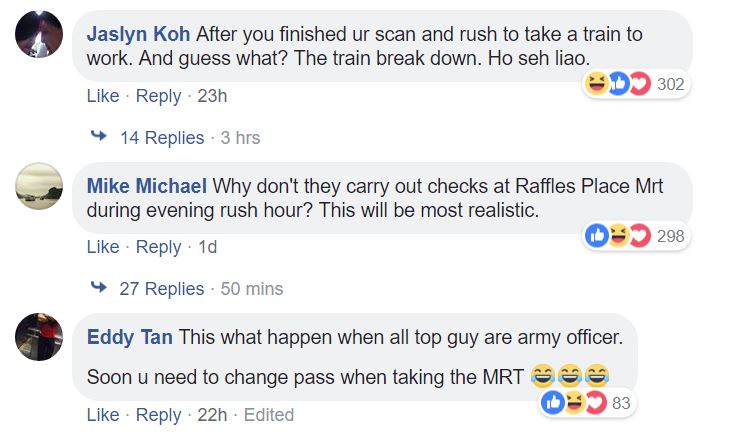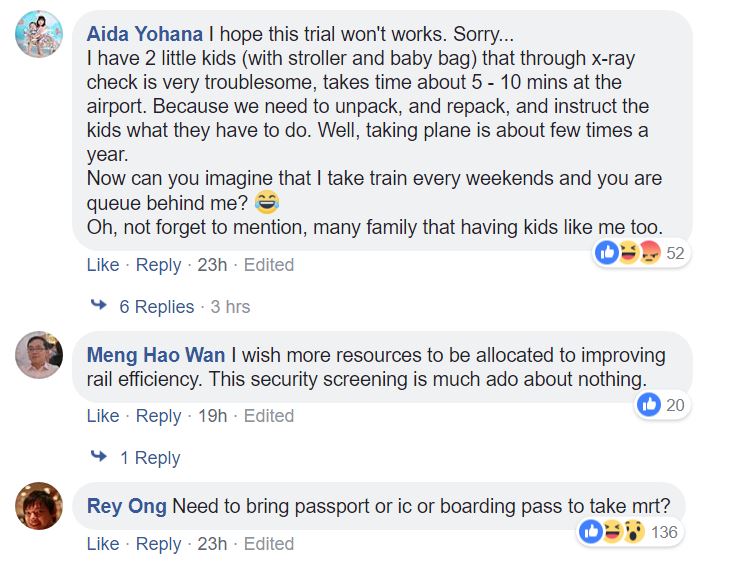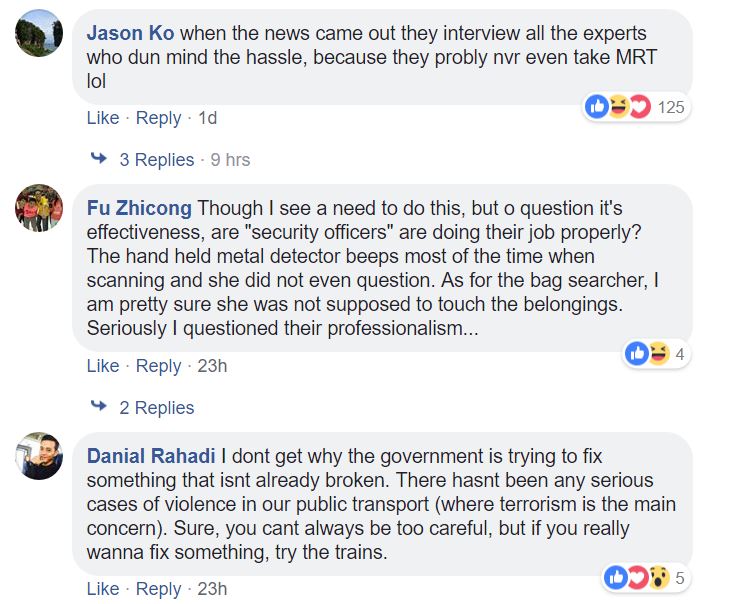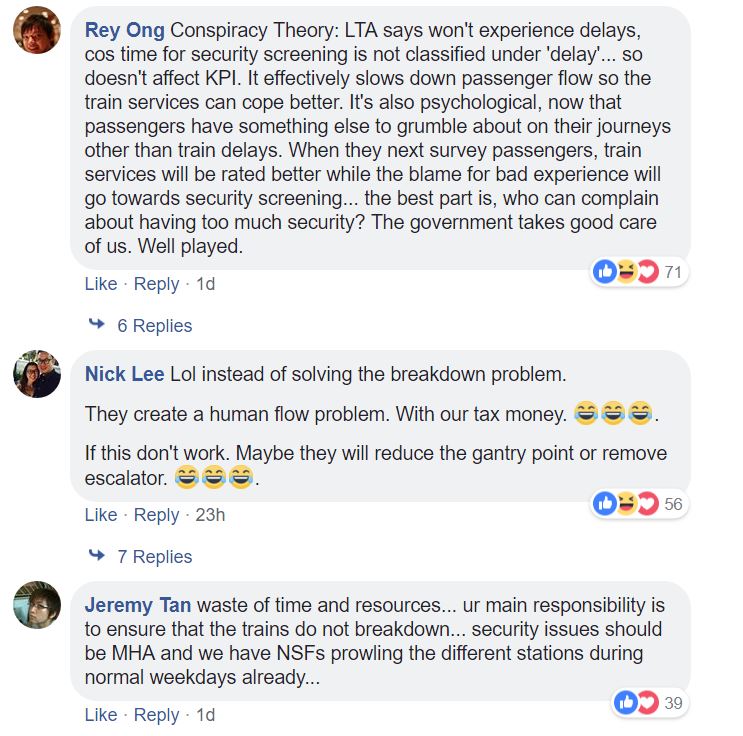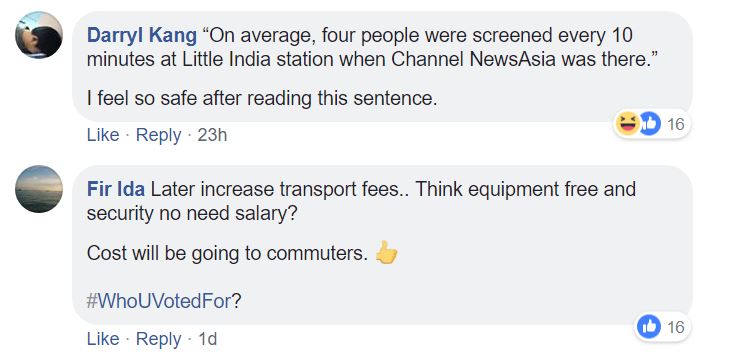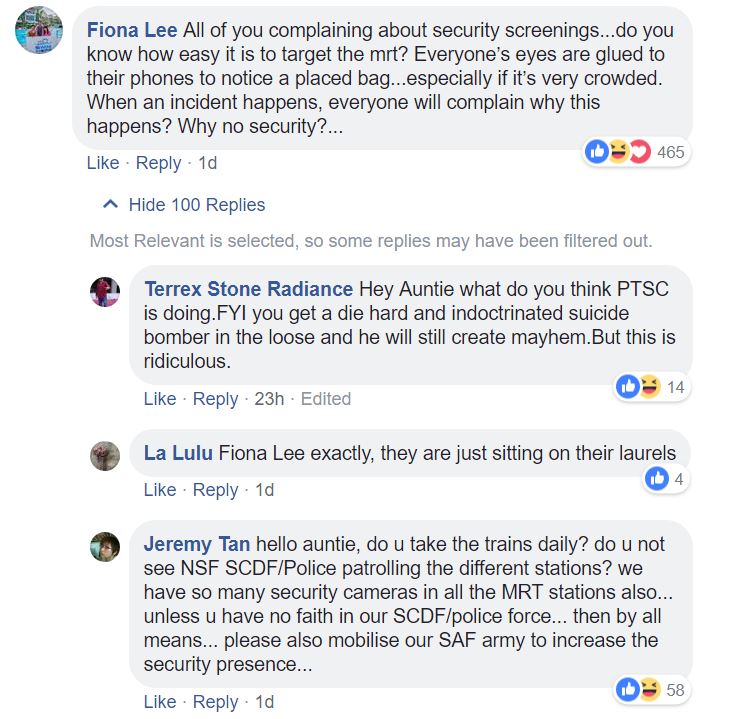 Follow us on Social Media
Send in your scoops to news@theindependent.sg 
No tags for this post.