By: Phillip Ang
Since at least a decade ago, thousands of supermarket/IKEA/Courts trolleys have gone missing every year.
They could be abandoned along walkways and roads, traffic junctions, below HDB void decks, etc or have become personal trolleys.
It was recently reported that a row of 20 abandoned trolleys (photo below) were found lying in the in the car park of a condominium for more than half a year.
Asiaone
NTUC Fairprice, the largest supermarket chain, loses more than 1000 trolleys every year and spends $150,000 on repairs, replacements and retrieval.
To Seah Kian Peng, Fairprice CEO, the decade long issue is a non issue and the financial loss must be peanuts. Seah: "… is an inconvenience to retailers and shoppers…is societal norm and basic courtesy to take something and return it". To Seah, the issue is merely one of inconvenience: the onus is on its customers and Fairprice is helpless to put a stop to this.
If Fairprice had real shareholders, Seah wouldn't have lasted years in his cushy CEO job.
There are local culprits but the majority of culprits are foreigners. To save on transportation costs, foreigners go to the extent of transporting their groceries with the aid of trolleys. Where furniture and furnishings are concerned, some have walked more than 1 kilometre from IKEA Tampines to save on delivery charges.
Tackling this issue will throw the spotlight on foreigners' anti social behavior behavior. And why would Fairprice embarrass the increasing number of its foreign customers who are increasing its profits?
The fact is, even if 10,000 trolleys were lost, Seah's pay and bonuses will continue to increase in tandem with an increasing foreigner population.
Besides having no solution, Seah has continued to give the public a lecture through the MSM to give a semblance of Fairprice 'resolving' the issue.
The situation has been getting from bad to worse with PTOs quietly allowing trolleys on trains. Since government-linked NTUC is not bothered by lost trolleys, why should GLCs SMRT and SBS Transit be concerned?

Would Seah be as "bochap" if Fairprice were his family-run supermarket? Would trolleys have been allowed to be 'borrowed' everyday? I think Seah wouldn't be talking cock today.
Seah's brilliant idea?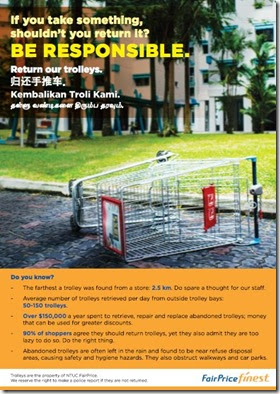 The situation is so bad that Fairprice had to set up a retrieval team. Trolleys could be found as far as 2.5 km away and trolleys, in a canal or chained outside HDB flats for future use.
This issue has a lot to do with PAP's immigration policy. But since there is only a huge social but peanuts financial cost, it's best to leave this alone. Why resolve an issue where credit is absent?
With the largest supermarket, Fairprice, trivialising this issue, missing trolleys will still be news in the next few decades.
—
Republished from the blog 'likedatosocanmeh'.Follow us on Social Media
Send in your scoops to news@theindependent.sg