Earlier today, Chief of new party People's Voice Lim Tean took to social media to call out Ho Ching, the Chief Executive Officer of Temasek Holdings and wife of Prime Minister Lee Hsien Loong, for attending the meeting with Vice President of the People's Republic of China Wang Qishan. VP Wang was on an Official Visit to Singapore from November 5 to 7, and was hosted by PM Lee and his wife, along with other ministers. A question raised by Mr Lim was, "On What Basis Did Ho Ching Attend This Meeting?"
On his Facebook page, Mr Lim questioned why she attended the meeting, and if her attendance was part of a new protocol.
https://www.facebook.com/MrLimTean/posts/2160292464238948?__xts__[0]=68.ARCyFncXMIuIhbFAfGfGq7F-_kMH1JcwvkeaKZAMx2ByrVCyKE8pIQ5p8rsOTmTYPsTFl0whRuBr1O380JGITFhsknVQHTzvzAW137x1OXaMZj6o3c7uM6xxtcTVVWC3z1nblW7CQcVHbA92xnQ_YS0-Qt6TVUWhfK8TMQdPGo_7ml4SjcUuiAmziNRLPt-rjJwLYrOLKSCECSAX-L4teCt5VAE&__tn__=-R
Mr Lim wrote, "I am surprised, to put it mildly,to see Ho Ching at this meeting with the Chinese VP Wang Qishan. In what capacity and on what basis was she attending the meeting?"
He continued, adding, "It is even more surprising to see her seated ahead of Teo Chee Hean and Vivian Balakrishnan.Is that the official protocol from our Ministry Of Foreign Affairs?".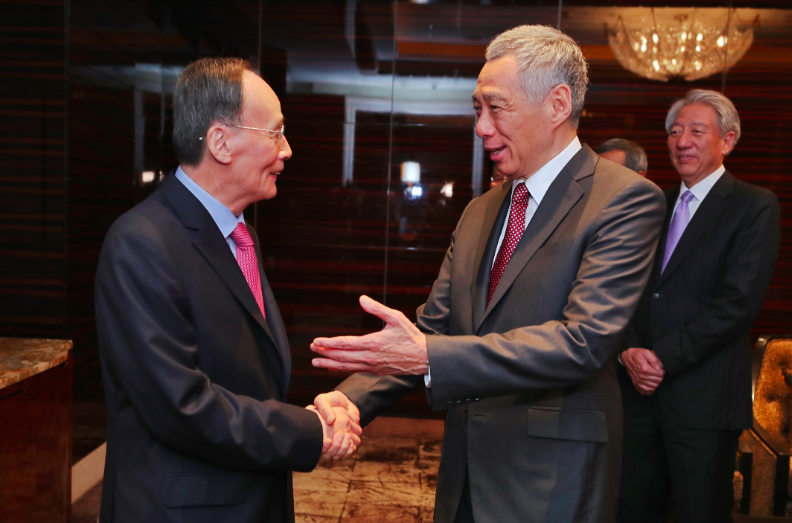 According to the Ministry of Foreign Affairs (MFA), "Prime Minister Lee and Vice President Wang discussed the broad and substantial cooperation between our two countries which was built upon the strong foundations laid by earlier generations of leaders. They welcomed the conclusion of the negotiations to upgrade the China-Singapore Free Trade Agreement."
"Vice President Wang also spoke about the developments in China. Both leaders exchanged views on key global and regional developments, including Sino-US relations, and expressed support for an inclusive, free and open, rules-based multilateral trading system", the MFA said.
Netizens who commented on the post also were curious as to who the official point of contact for the Prime Minister's Office was, with others speculating why she attended the meeting since it was in an official capacity.





________________________________________________________________________
obbana@theindependent.sg
Follow us on Social Media
Send in your scoops to news@theindependent.sg