Emeritus Senior Minister (ESM) Goh Chok Tong's authorised biography appears to have been a resounding success. From immense media hype to a highly publicised book launch involving Prime Minister Lee Hsien Loong, the book reportedly flew off the shelves and went out of stock at Kinokuniya over the weekend.
What has perhaps attracted Singaporeans most to ESM Goh's biography is the candid manner in which he discusses his interactions with prominent figures like Lee Hsien Loong, Lee Wei Ling, Lee Hsien Yang, Ho Ching, Low Thia Khiang, Chiam See Tong, Chee Soon Juan, among others.
His comments about his interactions with Singapore's founding Prime Minister Lee Kuan Yew piqued particular interest, especially as Goh recalled the late elder statesman's ideas and recounted how Lee treated him as Goh succeeded him.
In one particularly interesting anecdote, Goh quipped that Lee was "more liberal" than Singaporeans think as he recalled that Lee once suggested that they turn Sentosa Island or another island belonging to Singapore into a nudist colony, in a bid to attract tourists:
"As an aside, Lee Kuan Yew was more liberal than we think. Or more practical. When the tourism sector was down, he floated the idea of a nudist colony in Sentosa or an offshore island to bring them in! The younger ministers vetoed him."
Netizens responding to this excerpt were surprised. While signalled their support for the idea, others felt relieved that the suggestion was shot down:
yesman2978: "Please don't. Be clear about what is fantasy vs reality."

Apparatus: "Now still not too late to start mah"

wixxxx: "we would have been the Nudist Hub of Asia…..if they had listened to him"


Konnichiwa: "Na!@# I wanna know who is the younger Minister who vetoed the decision"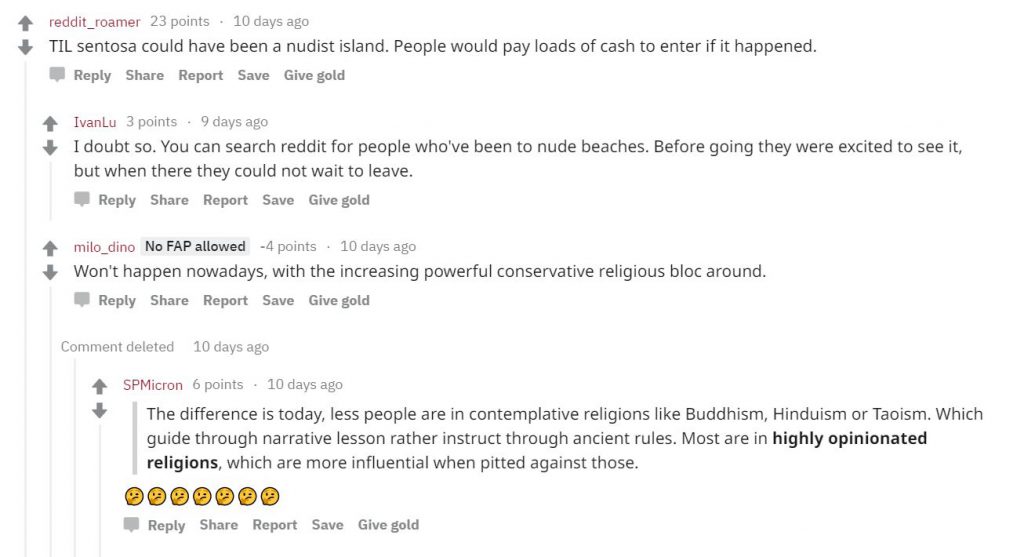 Lee Kuan Yew was indeed more liberal than many realised. He had signalled his support for people in same-sex relationships in Singapore, well before the #ReadyforRepeal movement, and had consistently stated in interviews his belief that homosexuality is a genetic variance and that homosexuals should not be persecuted.
In perhaps his most famous interview on the topic, Lee Kuan Yew frankly shared his thoughts on homosexuality at a PAP Youth Wing event in 2007:
"This business of homosexuality. It raises tempers all over the world, and even in America. If in fact it is true, and I've asked doctors this, that you are genetically born a homosexual, because that is the nature of genetic random transmission of genes. You can't help it. So why should we criminalise it?
"But there is such a strong inhibition in all societies – Christianity, Islam, even the Hindu, Chinese societies. And we're now confronted with a persisiting aberration, but is it an aberration? It's a genetic variation. So what do we do? I think we pragmatically adjust…"
—
Written by former Straits Times journalist Peh Shing Huei, the authorised biography entitled Tall Order: The Goh Chok Tong Story covers Goh's life until the point he becomes the nation's second Prime Minister in 1990. A second part, expected to cover the rest of Goh's life and career after he became Singapore's second head of Government, is widely anticipated.
Volume 1 of the authorised biography is now available on Amazon.com and in major bookstores around Singapore.Follow us on Social Media
Send in your scoops to news@theindependent.sg