Prime Minister Lee Hsien Loong's wife Ho Ching has piqued the interest of some netizens after she shared an article on their eldest son on her Facebook page, last Friday. Ho Ching, who serves as chief executive of sovereign wealth fund Temasek, shared an online interview with her son Li Hongyi, conducted by an NGO called Advisory.
The article covers the inner workings of Hongyi's job as Deputy Director (Data Science & Artificial Intelligence Division) at the Government Technology Agency of Singapore (GovTech) – an institution that sits under the Prime Minister's Office.
Although Ho Ching's Facebook posts typically do not get very many "likes" on social media, mainly due to the sheer volume of her posts, her post linking to an article on her son received 160 reactions: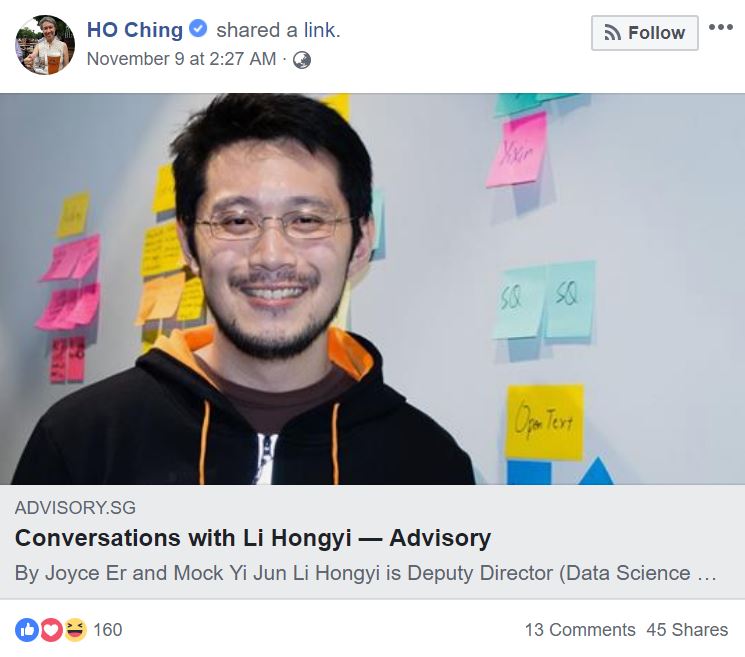 Public interest in PM Lee's children, particularly Li Hongyi, has been strong for some time now. Just last week, PM Lee was asked about whether the "next generation of Lees" would be entering politics.
The head of Government said that it would be unkind of him to "burden" them since it is "difficult enough" for them to carry his name:
"Not sure any of them have shown any interest in coming to politics. They are entitled to, but I don't think it's likely they feel the same compulsion that I did – duty that I do. They have their own responsibilities, their careers. I'm sure they'll make contributions in their own ways.
"But it would be unkind of me to add more burden on them. It's difficult enough for them as it is to carry my name."
Last year, PM Lee's siblings Lee Wei Ling and Lee Hsien Yang accused their elder brother of moulding Hongyi to enter politics, among other allegations that PM Lee was trying to go against his late father, founding PM Lee Kuan Yew's last wishes and that he tried to use state organs against his own siblings.
30-year-old Hongyi responded to the allegations in a Facebook post then and said, "For what it is worth, I really have no interest in politics."
Hongyi's cousin and Lee Hsien Yang's eldest son, Li Shengwu, later noted that Hongyi's comments on a potential entry into Singapore politics is "vague" as he told the press: "He only said he has no interest in politics, but my uncle Lee Hsien Loong also once said he wasn't interested in politics when he was in his 20s. These words can easily be taken back."
Li Shengwu is being sued by the authorities for comments he made about the Singapore courts in a private, "friends only" Facebook post.
An academic at the prestigious Harvard University, Shengwu himself openly declared that he will "never go into politics" in the past and asserted that he is "completely unsuitable" for politics. Besides avowing his love for mathematics, Shengwu also said that he is not willing to lie about his beliefs, which he believes he will inevitably have to do if he becomes a politician:
"I believe I can become a top economist, my second love is mathematics, that's where my interests are. As a politician, you will inevitably have to lie, I am not willing to lie about my beliefs, I am not up to it."
Shengwu further said that the Singapore government is still using his grandfather's name or political "halo" to increase their clout and asserted that Singapore no longer needs a leader from the Lee fold:
"I believe Singaporeans and the Singapore government should not constantly bring up Lee Kuan Yew, the institution should be larger than an individual. 
"Singapore no longer needs someone from the Lee family as a leader, no matter which side."Follow us on Social Media
Send in your scoops to news@theindependent.sg