Finance Minister Heng Swee Keat repeatedly stressed during the Budget 2019 Forum this week that "it is not possible for one budget to cover everyone in Singapore," as he answered questions on this year's budget from a live audience.
On Monday, Heng delivered his annual budget speech and laid out the Government's economic plan for 2019. A day later, he participated in a live forum that was broadcast live on national television and on Facebook.
When asked why this year's budget seems to be heavily focused on seniors, Heng said that there are a number of initiatives for younger people in the budget, such as training for youths, along with MediSave top-ups for those who do not qualify for the Merdeka Generation Package.
One audience member then pointed out that there were "glaring omissions" in the budget and asked what the Government is doing to help the sandwiched class who are grappling with the rising costs of living here but do not qualify for the initiatives launched to help the elderly and young.
Responding that "it's important that we try and keep the cost of living affordable for our people," Heng cited the open, competitive market in Singapore and the strengthened local currency as measures that help depress the cost of living since imported goods are now cheaper.
Singaporeans responding to the live Facebook video of the forum disagreed that the cost of living has gone down due to the reduced cost of imported goods.
Indeed, the 30 per cent water price hike and the ever-rising electricity tariffs in recent years have put a strain on many ordinary Singaporeans who are struggling to survive.
Some netizens responding to Heng's remarks on the cost of living, in the comments section of the live video, added that the rising cost of living deters them from having children: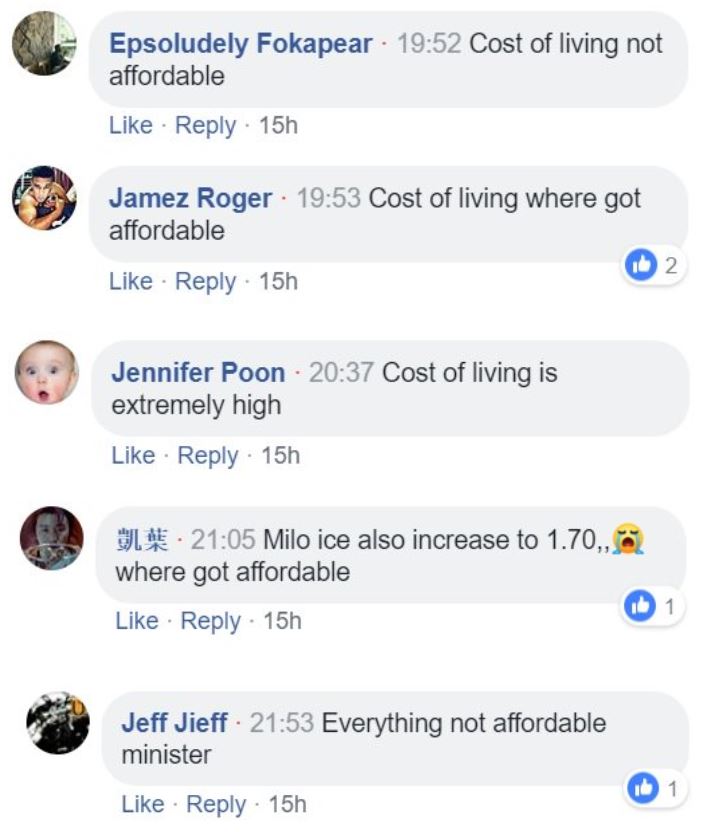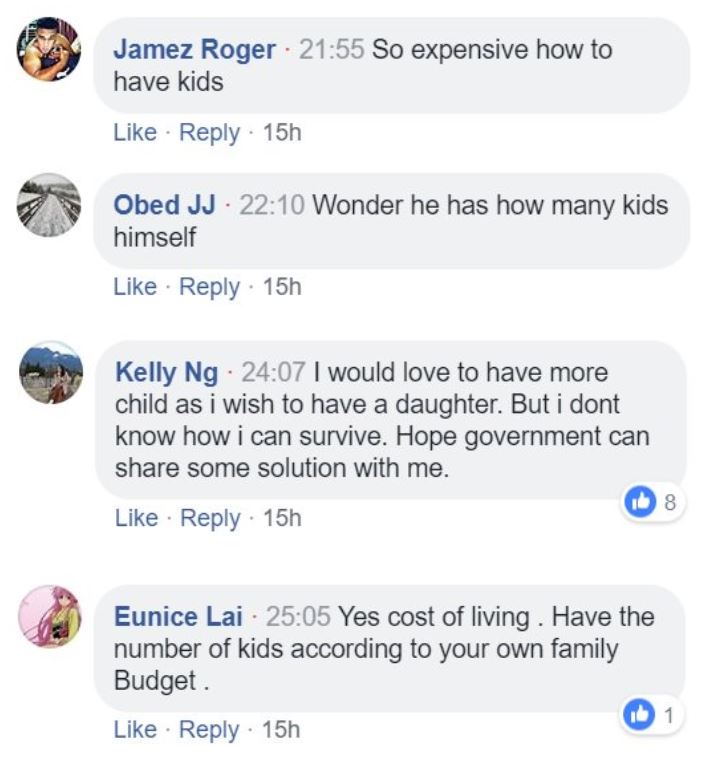 In the forum, Heng called Singapore's low birth rate a "very important issue" and urged Singaporeans to have more children and take advantage of Government subsidies and packages like the baby bonus, Child Development Account and other education subsidies.
Instead of touching on how the rising cost of living may impact Singapore's birth rate, Heng said that the most important factor that could transform the low birth rate is a "fundamental change in mindset."
Follow us on Social Media
Send in your scoops to news@theindependent.sg