A wedding going viral, is nothing new in the age of the internet. But this one in Indonesia caught the attention of netizens in the largest Muslim nation on earth, Indonesia.
A man who was in love with two women could not accept seeing one of them hurt if he were to marry the other. The solution? Pop the question to both.
The story appeared on the makasar_iinfo portal on August 18, with a video showing the wedding ceremony with the two brides.
While it is not surprising for a man to marry more than one wife in Indonesia, marrying both girlfriends at the same time got the country's social media buzzing.
In the video, the man is seated between the two women during the wedding ceremony with a blue cloth on their heads.
It took place in West Kalimantan, in a hamlet in the Airtarap village Kendawangan in the District of Ketapang Regency.
He gave the reason for the unique ceremony: "I do not have the heart to see anyone of them hurt. That is why I decided to marry both at the same time," he said.
Hence, instead of letting go of both lovers or marrying one, he successfully got both women on board with his plan to marry them at the same time.
But what got the social media rocking is the dowry for both women. They accepted a 'mahar' or dowry of Rupiah 10,000 each.
Many say it is an unreasonable amount.
Indonesia is no stranger to weird or unique marriages.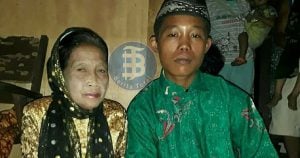 In September 2017, a 16-year-old boy got married to a 71-year-old woman against the wishes of the Indonesian authorities, sparking debates on the minimum age of marriage.
The boy had threatened to commit suicide if their families blocked the union, according to some reports.
While the name of the bride and that of his girlfriends are not known, the 16-year-old boy is Selamat Riayadi and his elderly bride is Rohaya. They got married in their home village of Karangendah in the western South Sumatra province of Indonesia. -/TISG