Hawkers at Pasir Ris Central Hawker Centre found themselves unpaid even after five months because allegedly, NTUC Foodfare disbursed takings from cashless transactions to them only after a period of five months.
In his National Day Rally last year, PM Lee talked about the move toward becoming a Smart Nation, which meant becoming more technologically savvy. While the operations of Pasir Ris Central Hawker Centre were in line with his goals for the nation, their execution fell short.
The hawker centre started operations in January and is run by NTUC Foodfare and has 42 stalls spanning across two floors.
The hawkers, who wished to be anonymous, also complained about the poor management of the hawker centre.
They said that the tables were not being cleared by the cleaning contractors, and of crockery damaged by dishwashers.
These hawkers told media that they pay about S$4,000 to S$5,000 a month for dishwashing, table-cleaning and cashless payment service.
The cashless payment service that hawkers paid for reportedly comes up to about S$150 a month.
When asked about the disbursements, a NTUC Foodfare spokesman said it had faced some difficulties because of a delay in the extraction of transaction records for disbursement.
The spokesman said, "However, we managed to make the first tranche of disbursement for Feb/March transactions to the tenants on June 1".
The spokesman also added that after the system stabilised, a second disbursement was made on July 1, and subsequent transactions will be disbursed monthly.
NTUC Foodfare has refunded the fees for the cashless system up to June 30 out of goodwill.
According to a tenant, the management had initially informed them that the cashless transactions would be disbursed within 1½ months.
While NTUC Foodfare spoke out about the late disbursements, it refuted the claims about the non-clearing of tables, saying that the cleaning contractors performed their duties as per their contracts.
A problem with the Prime Minister Lee's initiative of a 'cashless' Singapore is its implementation into communities that are already rooted in their ways. Moreover, when delays happen such as with the case of NTUC Foodfare, Singaporeans become less inclined to trying out newer systems.
Netizens who commented also felt that the problems the hawkers faced could have been avoided without the 'cashless' payment method.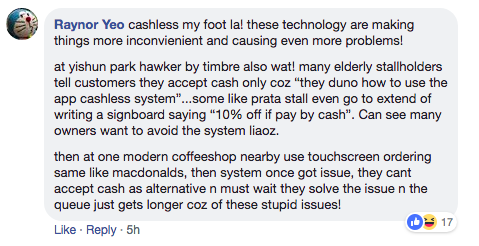 Others also griped about the poor and dirty state of the hawker centre.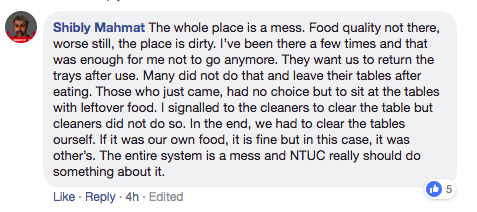 ________________________________________________________________________
obbana@theindependent.sg
Follow us on Social Media
Send in your scoops to news@theindependent.sg