Tan Kin Lian, the former chief executive officer of NTUC Income and a presidential candidate stirred up quite a racket on the Internet when he decided to use the plywood backing from his old election posters to fix a wooden bridge across a drain behind his house.
Mr Tan even went through a journey of soliciting advice from netizens and constantly updated them on his progress of fixing the bridge.
On Friday, January 4, he wrote on Facebook, "This is the bridge across the drain at the back of my house. Some planks may rot and give way. How should I secure it?
Options.
Replace rotting planks
Put an old wooden door above the planks
Cement the planks"
He then added in the comments section of the same post, "I found the solution. I will use the plywood backing for my election posters, the ones where I got 4.9% and lost my deposit, remember? The plywood came in handy.
https://www.facebook.com/kinlian/photos/p.2409351102470861/2409351102470861/?type=3&theater
Later that day, in an update, Mr Tan added that he was warned by his wife that termites may attack the plywood. He wrote, "I have now covered the bridge with plywood, taken from my election posters. It is now being painted. It looks better than before, right? My wife said the plywood will be attacked by termites in half a year. Maybe".
https://www.facebook.com/kinlian/photos/a.690147107724611/2409935412412430/?type=3&theater
Yesterday, Mr Tan provided his followers on social media with yet another progress-report. He said, "This is the upgraded crossing over the drain. I walked across it securely. The plywood top distributes the weight evenly among the five planks below".
Mr Tan even boldly said, "It cost me $2 for the plywood, nails and paint. If the govt does it, it may cost $20,000 and take two years. Will I be charged for criminal defamation?"
https://www.facebook.com/kinlian/photos/a.690147107724611/2413334425405862/?type=3&theater
One netizen, Boon Tan, commented adding, "This can only be temporary. The plywood is not weather proof and will peel off in no time making it dangerous to walk across. It is slippery on rainly days. There is no railing to prevent children falling into the drain. If accident happens you can be sued".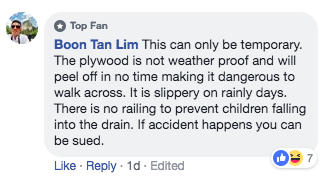 In response to him, Mr Tan dedicated an entire Facebook post. He replied, "I wish to inform report to Boon Tan that I have been extra careful in walking on this crossing. So far it has been secure than previously".
Rather sarcastically, he remarked, "I went to Grassroots Club and back. On the way I encountered more risks than this crossing. I am particularly worried about being knocked down by a vehicle.
I am aware than this crossing can be slippery on a rainy day. But it will be slippery everywhere, eg road, walking path, so we all have to be careful".
https://www.facebook.com/kinlian/photos/a.690147107724611/2413888452017126/?type=3&theater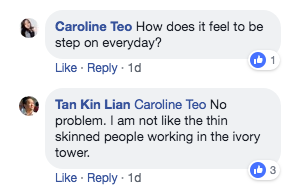 The comments were gold, and one lady asked, "How does it feel to be step on everyday?"
"No problem. I am not like the thin skinned people working in the ivory tower", Mr Tan replied.
________________________________________________________________________
obbana@theindependent.sg
Follow us on Social Media
Send in your scoops to news@theindependent.sg