Even two days after it was reported that Emeritus Senior Minister Goh Chok Tong allegedly slammed a suggestion to fund elderly pension by cutting million-dollar ministerial salaries, he faces a slew of comments from unhappy Singaporeans.
According to a recording shared by online media sources, the former prime minister of Singapore was speaking to grassroots leaders and Government partners at an event on Thursday when he said, "ministers are not paid enough!"
He also added that it is "very populist" to demand that ministerial pay be slashed instead. He was responding to a question that asked, "have some sort of an elderly pensions fund? Perhaps, can I say, cut a bit on the defence? Or perhaps even from the ministers with million-dollar salaries?"
However, ESM Goh might have failed to note that when ministerial salaries were last reduced in 2012, even with a 36% pay cut, Prime Minister Lee Hsien Loong was then still the highest-paid political leader in the world, excluding bonuses.
Many online have pointed out that serving the nation should not be valued in monetarily.
This incident has also brought up the National Kidney Foundation Singapore scandal where former NKF patron Tan Choo Leng, wife of Senior Minister Goh Chok Tong, sparked outrage when she remarked that T.T Durai's pay of "S$600,000 a year is peanuts".
In a twitter post on Saturday, Lim Tean, chief of unregistered party People's Voice said that he was disgusted by what he read about ESM Goh, and comments from disgruntled Singaporeans continued to pour in.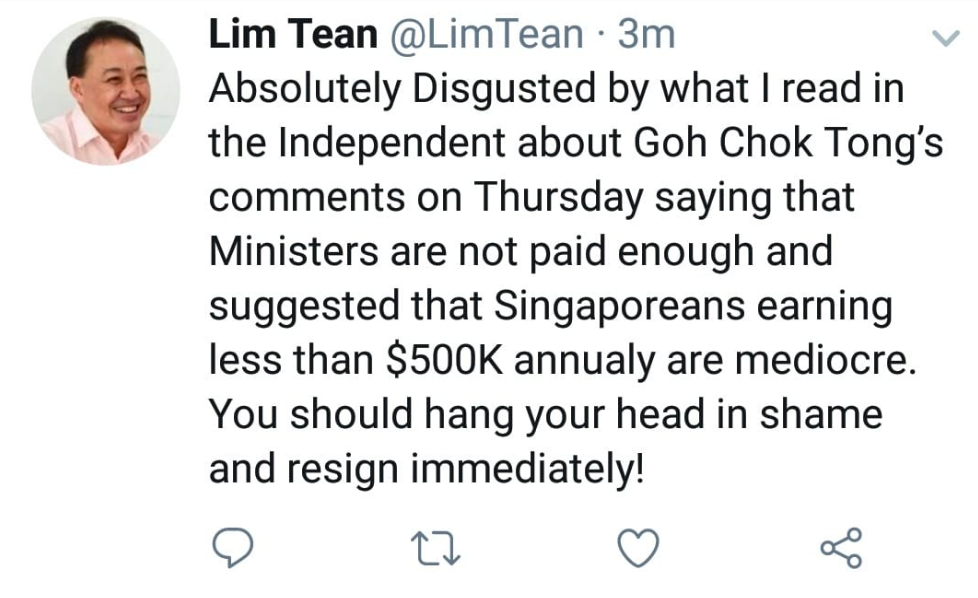 ________________________________________________________________________
obbana@theindependent.sg
Follow us on Social Media
Send in your scoops to news@theindependent.sg