Hong Kong— Hong Kong students vandalized the office of a professor from Singapore after he told his class to keep his classroom free from political agendas. The response online to the news has been mixed, but more and more netizens have shown support for Dr Tan Yong Chin, an assistant professor at the City University of Hong Kong, who had moved from Singapore to teach there.
Many netizens have told him to simply come home if this is how students in Hong Kong are treating him.
On Friday, October 18, Dr Tan had written in an email that was then shared to different groups online, "For any future presentations in class, if you use it as an opportunity to broadcast any political announcements or statements, the whole group will automatically get zero points for the presentation," the South China Morning Post (SCMP) reported.
The SCMP also reported that one student even wrote, "You are here to teach. Do not bring your political agenda into assessment criteria."
Some netizens have even wondered if the protesters in Hong Kong, many of whom are young adults and teenagers, have gone too far, and have expressed support for what Dr Tan did.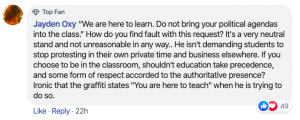 One commenter argued that since Dr Tan was teaching marketing and not anything related to politics, he was right to have done what he did.


Many condemned the actions of the students who had vandalized Dr Tan's office.




Another netizen wrote, "Students are out of line. Lecturer did right. He loves HK and doesn't want to see HK burn."

Some netizens encouraged the professor to just return to Singapore.





Others recommended punitive action against the students.

There were, however, some netizens who stood up for the students.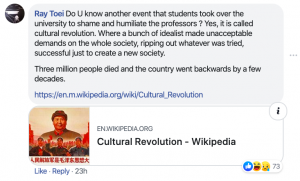 /TISG
Read related: China plans to replace Hong Kong leader Carrie Lam: FT
Send in your scoops to news@theindependent.sg