A video of some tourists from China allowing their children to urinate in public at the S.E.A. Aquarium in Sentosa triggers a whole range of comments from netizens.
The incident, which took place on August 12, was filmed by netizen Steve Nguyen who said, "S.E.A. aquarium in Singapore. Video by me. chi- na people peeing on the floor. This is really f…off. 12 August 2018".
He also added, "They don't care about everyone sitting next to them".
The video garnered almost 200 reactions and about 1,600 shares.
https://www.facebook.com/steven.nguyen.50552/videos/vb.840625552/10160874862245553/?type=2&theater
The video shows a child with his pants around his ankles and a few other ladies around him.
An elderly lady who sees that a video is being taken of them gestures, asking the videographer to stop.
The video received 101,590 views. Many said that the netizen who took the video, Steve, was being rather childish and inconsiderate. Others added that the family should have been fined by S.E.A. Aquarium.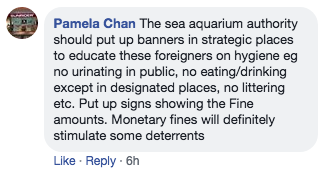 A spokesperson from Resorts World Sentosa said, "We have reached out to assist the guests and cleaned the area when it took place", and refused to comment further.
________________________________________________________________________
obbana@theindependent.sg
Follow us on Social Media
Send in your scoops to news@theindependent.sg