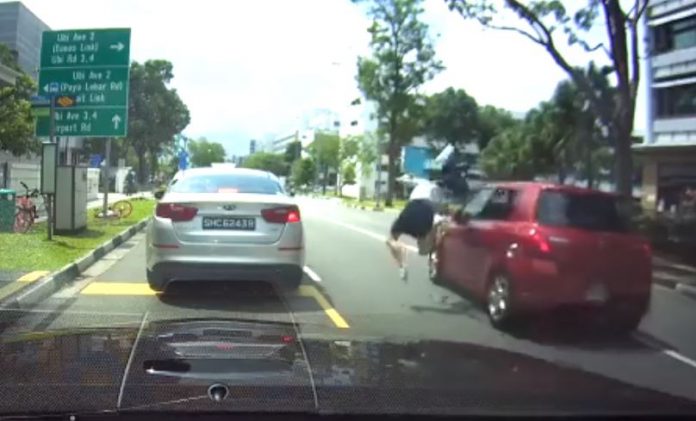 A video showing a girl in school uniform being struck by a car at Ubi and being thrown across the road upon impact has been going viral online. In the video, a girl can be seen looking left for cars and breaking into a sprint to cross the road, before she is struck by an oncoming vehicle:
Becareful when u cross the road. Look right look left n look right again pls!! *clarification note: some one posted a video in the below comment post showing the red car didnt hit & run. He moved in front of the taxi n his car was blocked by the taxi.

Posted by Lindy Sim on Monday, 16 April 2018
The teenager has reportedly been taken to the hospital following the crash. The police confirmed that the accident occurred Ubi Road 1, towards Airport Road, around 2.47pm yesterday. It added that the victim is a 16-year-old who has been conveyed to Changi General Hospital.
Facebook user, Lindy Sim, who shared the dashboard camera footage capturing the accident on social media noted that the car that struck the girl did not flee from the scene but parked in front of the taxi seen in the video, to presumably help the girl.
Sim, whose video has garnered over 90,000 views since it was shared yesterday, cautioned netizens to be more careful when crossing the road.
Another video that has been uploaded online shows multiple views of the accident. The video shows passers-by moving the girl to a nearby grass patch following the accident.
Netizens responding to the videos seemed to be more upset that the girl was moved after the accident, than about the accident itself: