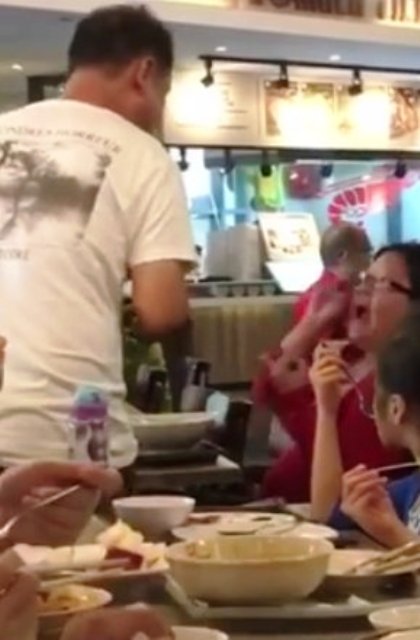 The Facebook group 'The Alternative View' has shared a picture suggesting that the woman who berated the deaf and dumb cleaner at the JEM foodcourt is a grassroots leader.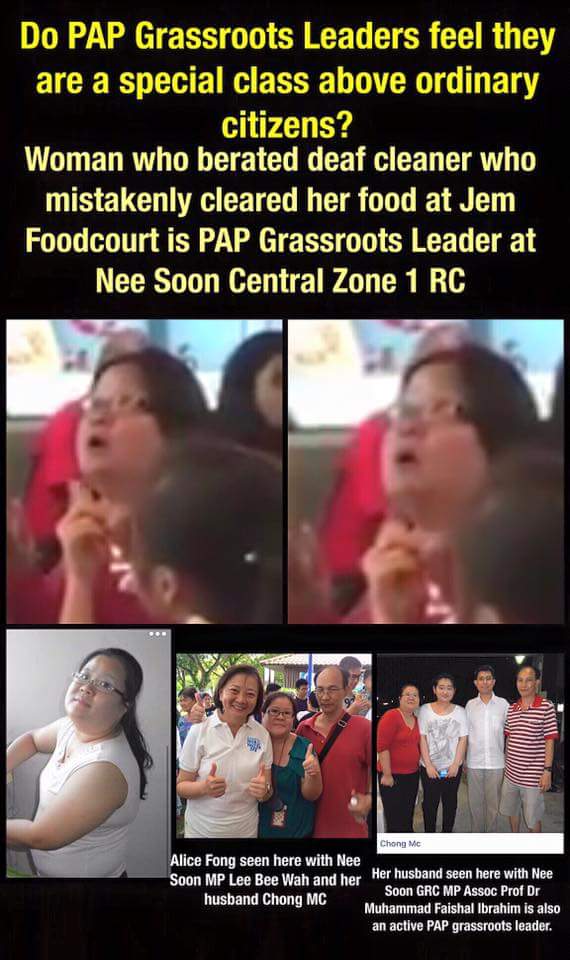 They have captioned the picture: "we have been alerted by a reader that the woman who berated a deaf cleaner at Jem Foodcourt yesterday for accidentally clearing her food is an active PAP Grassroots Leader together with her husband at Nee Soon GRC.
Do these PAP Grassroots Leaders which include the likes of Lionel De Souza who regularly threatens opposition party supporters think they are a special class above "ordinary citizens"?"
Facebook user, Euphemia Lee, shared a disheartening video last evening (Jun 3) showing a woman in a crowded food court at JEM berating an elderly cleaner for misunderstanding her and trying to clear her table while she hadn't finished her food.
Euphemia recounts: "The cleaner misunderstood her grunting when he asked if he could clear her tray for affirmation. She abruptly exploded into cursing and violent upper body actions. She then told him that he should go and die and should not be given a coffin. She then continued eating until her husband returned, after which she insisted her husband drag the old man back to their table to APOLOGISE to her."
It was then that the woman and her husband were notified that the cleaner is deaf and dumb. The woman then continued to make a scene and demanded the cleaner to apologise to her despite the food court manager's best attempts to placate her. In short, the woman eventually implied that "old and disabled people should not be given employment nor forgiven for their mistakes. And that they should just be beggars and wait for the government to feed them."
See the video in full here: