CEO of Singapore sovereign wealth fund Temasek, Ho Ching, has compared Singapore's Central Provident Fund (CPF) scheme more favourably than retirement systems elsewhere in the world. Mdm Ho, who is married to current Singapore Prime Minister Lee Hsien Loong, made this comparison in response to a recent report that the world is sitting on US$400 trillion of global retirement shortfall.
In a Facebook post published on Monday (28 Oct), Mdm Ho wrote: "US$400 trn of retirement shortfall globally for defined benefits systems. Of these, 3 countries account for just over US$340 trn – USA, China and India. The remaining are UK, Japan, Canada, Australia and Netherlands, still operating on defined benefits pension system.
"The shortfalls mean that these countries are unlikely to be able to deliver the defined retirement benefits in time to come unless taxes go up to cover the shortfall. It also means the working generation having to carry the burden of the retired generation through taxes."
Noting that Singapore has an alternative retirement system in the form of CPF, which is a defined contribution system instead of a defined benefits system, she added: "The alternative retirement system is a defined contribution system – in other words, you save for your own retirement in a system like the CPF.
"The British set up the CPF in SG with its 3 keys logo – for govt, employer and employee – one key each for the retirement savings.
"Britain itself has also been moving from defined benefits to defined contributions over time, and is about 2/3 of its current workforce in defined contributions about 10 years ago. The main difference between the defined contributions system in UK and in SG is that the UK system doesn't have a cap, while SG has a cap for the higher income folks."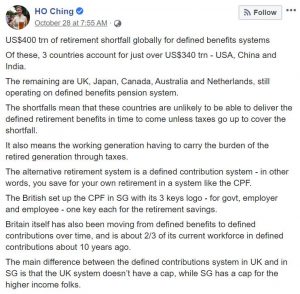 The CPF scheme is a compulsory savings plan for working Singaporeans and permanent residents primarily to fund their own retirement, healthcare, and housing needs. An employment based savings scheme, CPF requires employers and employees to contribute a mandated amount to the Fund each month.
The CPF, which is administered by the Central Provident Fund Board – a statutory board operating under the Ministry of Manpower which is responsible for investing contributions, has been described as "a forced savings scheme" for Singaporeans.
It has been a hot button topic among citizens, especially after the Government deferred the original withdrawal age to 65 years old. Today, CPF members are unable to take out all of their CPF savings in a lump sum once they reach the retirement age.
CPF members must set aside S$40,000-S$60,000 in their retirement account to receive monthly payouts and can withdraw up to S$5,000 from their Special and Ordinary Accounts, or their CPF savings after they have set aside their Full Retirement Sum. Those who are born in 1958 or after can also withdraw up to 20% of their Retirement Account savings from age 65 but this would reduce the amount of monthly payout they receive.
The CPF system remains a hot button topic in Singapore. Earlier this month, Singapore Democratic Party (SDP) secretary-general Chee Soon Juan highlighted the plight of two senior citizens living in Bukit Batok who were unable to withdraw their CPF savings.
One resident, who is in his early 60s, told Dr Chee that he could not withdraw his savings even though he had S$274,000 in his CPF account. The elderly man told the opposition leader that he has to continue working even though he wishes to retire because he cannot get his retirement savings back.
Another resident, who is also in his 60s, told Dr Chee that he could not work for two years because of an illness. Desperate, he wrote to the CPF Board to release some of his savings to him so he could support himself but the CPF Board apparently refused.
The elderly man had to seek help from charity organisations to feed his family and continue paying the bills. His family also had to cut down their meals to twice a day, to survive.
Dr Chee wrote that these are "ordinary Singaporeans playing by the rules, paying their taxes but ending up after a lifetime of work unable to live in security. They face a government callous to their hardship, impervious to their pleas."
Earlier, Progress Singapore Party (PSP) chief Dr Tan Cheng Bock said that he wants to re-enter parliament to seek accountability about CPF savings.
Dr Tan, who is Singapore's very first former ruling party politician to start his own opposition party, said earlier this year: "I go in because I want accountability. I want transparency. What's happening to our reserves? Are our reserves all gone? Don't know. What happened to our CPF?
"Now these things, we all can shout until the cows come home [but its] no use, if you're not in the House."
Chee Soon Juan tells off CPF Board for seeking contacts of seniors unable to withdraw savings
Tan Cheng Bock says he wants to re-enter parliament to seek accountability about CPF