A Singapore employer has offered a young Malaysian a job at his local car dealership, after the young girl was harassed by a so-called 'religion' man while she was trying to do her job as a beer promoted at a Giant supermarket outlet in Kuala Lumpur.
A video of the altercation involving the Carlsberg promoter has been going viral online. In the video, the girl can be seen stationed at the non-halal section of the supermarket, doing her job of offering Carlsberg samples to customers.
A man approaches her and verbally abuses her for offering beer samples to Muslims. The beer promoter responds calmly but the man continues harassing her.
When the young lady tells him not to bring "religious propaganda" into the conversation and asked the man whether he was "racist," the man denies it but continues to rant in Malay. In response, the beer promoter says something in Chinese and the Malay customer proceeds to flip her off:
The video, that is clearly taken by the man harassing the beer promoter, landed on the Internet and support for the young lady poured forth:


The backlash against the man was so severe that he came out to apologise. Carlsberg also issued a statement on the matter:
https://www.facebook.com/limlipengOfficialPage/videos/359057811524060/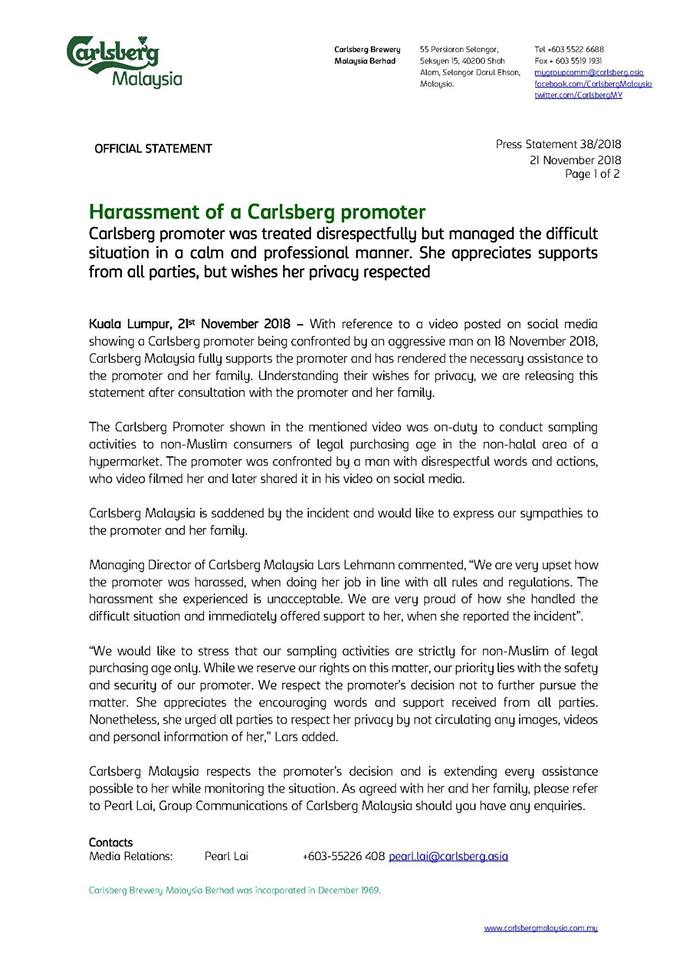 The way the young beer promoter handled the situation has impressed many, including a Singaporean who has offered her a job at his local car dealership here:

It appears that the girl may be overqualified for the job, though. The young lady reportedly earned 7 As in her SPM examinations – similar to Singapore's O-Levels. She was reportedly working part-time at the Giant supermarket as she waits to further her studies.Follow us on Social Media
Send in your scoops to news@theindependent.sg 
No tags for this post.