Singapore—On Saturday, October 26, Singapore General Hospital (SGH) published a post on its Facebook page to warn the public of a scam.
The hospital noted the errors in the document, saying it has 'poorly worded and dubious' content as tell-tale signs to look out for.
The hospital posted a photo of an invoice allegedly from SGH, dated October 25, that read, "Description
Urgent payment of Mdm See (full name redacted) of $23,600 'was make' by credit card no 1845 only for heart urgent transplants surgery @ surgery ward B2 today.
( Full payment must be 'make' before surgery )
Total Cost : $23, 600
Amount Due: $600,00
Dr Tan (Surgery oncologists)
Singapore General Hospital
A& B Dept."
The hospital added in its post, "A fake invoice bearing SGH logo was brought to our attention. It was used to borrow money. Please do not fall prey to such scams.
If you encounter such a letter, please PM us."
A spokesman for the hospital told The Straits Times (ST) on Sunday, October 27, that SGH has filed a report with the police concerning the matter.
"We were informed of one case of a fake invoice. Although it is only one case, we see the importance to alert the public to be aware and not fall prey to the scam," said Jennifer Wee, the chief communications officer at SGH.
Netizens pointed out how ridiculous the fake invoice was, starting from the discrepancy with the costs.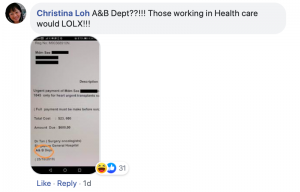 However, one netizen said the grammatical errors may have been done on purpose for scammers to weed out more savvy people who would see through their scams, keeping only the most gullible ones, who would be vulnerable to their deceptive schemes.



One netizen even bothered to show all the mistakes in the invoice, which numbered 18 in all.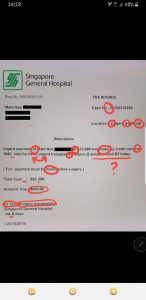 Others refuted the statement in the letter that the surgery must be paid for in full first.

Another netizen pointed out that the high price for the surgery should have tipped the patient off right away.

Some shared good advice to prevent future incidents.

/TISG
Read related: Singaporeans advised to be alert, scams on the rise
Send in your scoops to news@theindependent.sg