It is no secret that Kim Kardashian and Taylor Swift have been feuding for years.
Selena Gomez recently uploaded a photo of herself trying on Kim's new shapewear line, Skims.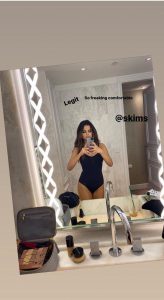 When Taylor Swift got angry, Selena deleted the photo and instantly posted a photo praising her BFF, Taylor.
Swifties (fans of Taylor Swift) are upset at Selena Gomez for posting the picture.
Selena Gomez has unknowingly and accidentally thrown herself in the crosshairs of two feuding personalities by complimenting Kim Kardashian on Instagram.
She quickly backtracked when the Swifties came after her.
Kim and Taylor started feuding when the latter felt she was wronged by both Kanye and Kim after Kim released a private phone conversation between Taylor and Kanye.
Kanye also lied to Taylor several times, embarrassing her publicly and it all ended in the #TaylorSwiftIsOverParty.
It has been years but no one is over it.
Selena just got her hands on some items from Kim's new shapewear line, Skims, posting about them on Instagram and saying that they were 'legit so freaking comfortable.'
Obviously Swifties were not happy about this so they went on Twitter to voice their displeasure.
you know, even if Taylor is ok with Selena supporting skims, I don't have to be ok with it. that's my decision. pic.twitter.com/XcKeqcNcpP

— celeest loves shiny things (@INTHAFstan) October 28, 2019
Upon realisation of the situation, Selena deleted the Instagram story immediately and replaced it with some Taylor propaganda.
She uploaded a selfie with Taylor and the caption read, "My ride of die. I would die for this one."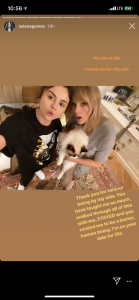 "Thank you for forever being by my side," she continued. "You have taught me so much, walked through all of this with me, STAYED and you remind me to be a better human being. I am on your side for life."
Send in your scoops to news@theindependent.sg