Han Hui Hui, an activist with the #ReturnOurCPF movement, has been invited to speak at the Human Rights Defenders World Summit in Paris at the end of this month.
Ms. Han announced this on her Facebook page on Tuesday, October 23, saying that she will be speaking on housing, health, human rights, and her "submission of Singapore's Universal Periodic Review (Mid-Term Report 2018) to the Office of the United Nations High Commissioner for Human Rights."
She also asked for input from netizens as to what else she should talk about.
True to her habit of not shying away from topics that may seem taboo to others, she also asked in her post, "Should I tell them about how Singapore's incumbent manpower minister said Singaporeans don't need much space to have sex?" adding a link by way of explanation.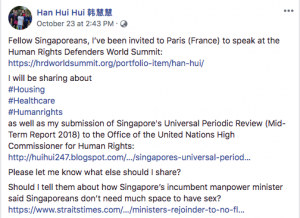 Ms. Han has been included in the Human Rights Defenders World Summit delegation, an organization that serves to represent various voices in communities, and includes American student Eva Lewis, who advocates for the rights of blacks; Saw Zin Maung Soe, a LGBTQ rights activist from Myanmar; Mudawi Ibrahim Adam, a human rights activist from Sudan, and others.
Out of the 1400 people who expressed interest in joining the summit, 150 were selected, including Ms. Han.
This is the second time that the Human Rights Defenders World Summit will be held, the first was held in 1998. The goal of the summit is to celebrate achievements in human rights in the last two decades, as well as lay out plans for the future.
Ms. Han first came to the limelight in Singapore as an active voice for the #ReturnMyCPF movement through her blog and during rallies. Along with five others, Ms. Han was arrested at a demonstration in Hong Lim Park in 2014 and was charged with organizing an illegal protest and causing a public nuisance for disturbing an event for children with special needs. Ms. Han was fined $3,100 in 2016.
Read related: Amnesty International condemns Singapore govt's treatment of "peaceful human rights defenders" like Han Hui Hui
In 2015 she also ran as an independent candidate in the Radin Mas Single Member Constituency where she only got ten percent of the votes.
In 2017 the Attorney-General's Chambers (AGC) ordered Ms. Han to take down some of her social media posts wherein she claimed that judges had told lies in order to "politically persecute" her. In a separate blog post, she claimed to be mistreated in a State Courts cell, which was later refuted by the Ministry of Home Affairs. She eventually complied with the AGC's orders and modified her posts.
Earlier this year Ms. Han disrupted a public hearing in Parliament, holding up a poster with the cover image of a book called Authoritarian Rule of Law: Legislation, Discourse and Legitimacy in Singapore, written by the former wife of K. Shanmugam, the country's Law and Home Affairs Minister. Ms. Han was asked to put down the poster, and when she refused, was forcibly made to exit the hearing room.Follow us on Social Media
Send in your scoops to news@theindependent.sg