A PAP MP has expressed disappointment about a new levy taxi drivers will have to absorb, that his ruling party colleague imposed. The disappointed MP is National Taxi Association (NTA) executive adviser Ang Hin Kee, while the one who imposed the levy is ComfortDelGro Taxi CEO Ang Wei Neng.
Besides serving the same party, the two MPs share the surname "Ang".
The MP who serves NTA belongs to Prime Minister Lee Hsien Loong's Ang Mo Kio GRC, while the MP who leads Singapore's largest taxi operator is part of Deputy Prime Minister Tharman Shanmugaratnam's Jurong GRC team.
The issue began after ComfortDelGro announced that it will impose a new levy for job bookings, worrying cab drivers who feel they may end up paying more to the taxi operator company for accepting bookings.
Under the new levy, taxi drivers who accept bookings with fares $12 and above will be charged a 3.9 per cent cut of their earnings, which will go straight to the ComfortDelGro.
While the levy for trips under $12 will be waived, it must be noted that the $12 benchmark includes the booking fee, the metered fare, city area surcharge, location surcharges and peak period surcharges.
This means that drivers who accept bookings for trips in the CBD area during peak hours will likely not be able to go very far before they are slapped with the levy.
When this levy goes into effect next Tuesday, cabbies who earn $13 from a trip after accepting a booking will have to pay ComfortDelGro over 50 cents while drivers will have to fork out nearly $2 for trips that come to $50.
While 50 cents or even $2 seems like very little, it is significantly higher compared to the flat-rate levy taxi drivers are presently charged for accepting bookings. Those who accept bookings during off-peak hours presently pay a flat fee of 30 cents and and those who accept booking during peak hours pay a flat fee of 40 cents.
Drivers who accept advance bookings are charged $1. Under the new levy structure, the $1 charge for advance bookings will cease to exist and those who accept advance bookings will have to fork out 3.9 per cent of their earnings for trips $12 and above to the taxi operator.
Revealing that NTA has approached ComfortDelGro, Land Transport Authority and the Competition and Consumer Commission of Singapore, AMK GRC MP Ang Hin Kee said that NTA is disappointed that the taxi operator "went ahead to implement this new levy structure despite concerns raised from cabbies that it amounts to taking more from them".
ComfortDelGro, however, claims that the new levy structure is to encourage even more cabbies to take up bookings.
An e-letter by ComfortDelGro Taxi chief and Jurong GRC MP Ang Wei Neng shows that the taxi operator will take their slice of taxi driver's earnings under the new levy scheme via weekly GIRO deductions.
The letter that CEO Ang sent to all taxi drivers promised that the organisation will provide "enhanced weekly incentive to cabbies in the coming weeks".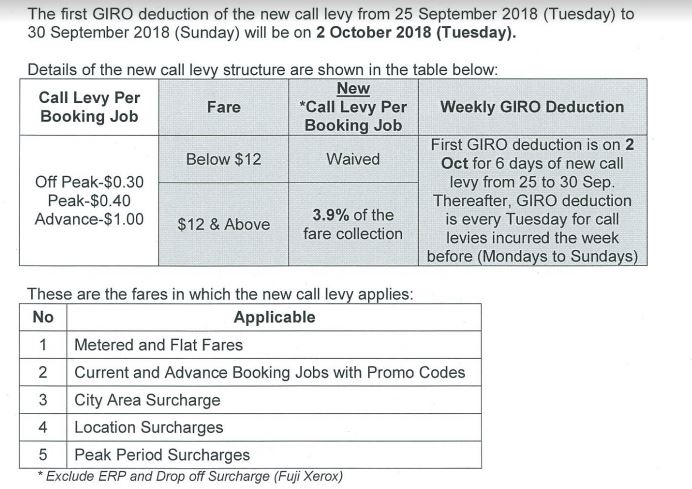 Follow us on Social Media
Send in your scoops to news@theindependent.sg