Netizen Veronica Chin is obviously unhappy with parents bringing their their boys to camp, since she claims this causes big traffic jams that inconvenience everyone. She also suggests that MINDEF not only prevent parents from driving their sons to camp, but to even look at changing their schedule to have new enlistees to come in the day before, in order for other citizens not to be affected by the traffic.
Part of the point she was making was that the boys going to camp need to prepare for independence, and so should not be pampered by being driven all the way to camp, even if they do have heavy duffel bags.
Ms. Chin's post, which was put up on the Facebook page COMPLAINT SINGAPORE on Monday, September 17, has received mixed reactions from other netizens, but has been shared more than 60 times.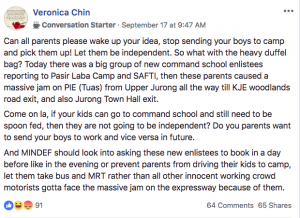 Her post reads, "Can all parents please wake up your idea, stop sending your boys to camp and pick them up! Let them be independent. So what with the heavy duffel bag? Today there was a big group of new command school enlistees reporting to Pasir Laba Camp and SAFTI, then these parents caused a massive jam on PIE (Tuas) from Upper Jurong all the way till KJE woodlands road exit, and also Jurong Town Hall exit.
Come on la, if your kids can go to command school and still need to be spoon fed, then they are not going to be independent? Do you parents want to send your boys to work and vice versa in future.
And MINDEF should look into asking these new enlistees to book in a day before like in the evening or prevent parents from driving their kids to camp, let them take bus and MRT rather than all other innocent working crowd motorists gotta face the massive jam on the expressway because of them."
Commenters are divided between those who claim that it's because of love that parents drive their kids to camp…



and those who agree with Ms. Chin that young men going to camp should not be pampered this way.



One commenter even went as far as to ask Ms. Chin if she herself is a parent. She is, and replied that she let her son go to camp alone.

Follow us on Social Media
Send in your scoops to news@theindependent.sg