Veteran opposition leader Goh Meng Seng has indicated that ex-Foreign Affairs Minister George Yeo could be the key for the People's Action Party (PAP) to win back Aljunied GRC, which was wrested away from the PAP by the Workers' Party (WP) in the 2011 General Election.
A former military man who rose to the rank of Brigadier-General in the Singapore Armed Forces, Yeo left the army to pursue politics in 1988. He was elected into parliament that year and went on to serve in various ministries, including the Ministries of Finance, Information, Communications and the Arts, Health, Trade and Industry and Foreign Affairs.
At the 2006 general election, Yeo led the PAP team in Aljunied GRC which defeated the team from the opposition Workers' Party (WP) with 56.1% of the votes to 43.9%. This was the PAP's narrowest margin of victory in the elections that year.
At the 2011 general election, the then-Foreign Affair Minister led the PAP team in Aljunied which was defeated by the WP team. Yeo thus lost his seat in Parliament and his ministerial appointment.
Yeo announced that he was retiring from active politics on 10 May 2011. However, on 1 June 2011, he stated on his Facebook page that he was "thinking hard" about the possibility of becoming a candidate in the 2011 Singapore presidential election. However, on 15 June, Yeo announced that he would not be standing for president.
On 5 October 2011, Yeo stepped down from the PAP's Central Executive Committee (the party's governing body). The next year, in 2012, Yeo joined the private sector.
In January 2012, Yeo joined the Kuok Group as Senior Advisor, and vice chairman of its subsidiary Kerry Group (HK) Pte Ltd. He now serves as chairman and executive director of Kerry Logistics Network (KLN).
On Friday (12 Apr), Yeo announced that he is stepping down from his roles KLN's chairman and executive director after the organisation's Annual General Meeting on 31 May 2019.
Revealing that he wishes to set aside more time for his family and to pursue "other interests", he wrote on Facebook:
"I indicated to Mr William Ma and Kerry Group of my wish to retire a year ago after my wife recovered from a serious illness. Reaching 65 this year, I want more time for my family and to pursue other interests.

"I have agreed to stay on as Senior Adviser and expect to be back in HQ every month. It is therefore not yet time for farewell…I will also be retiring as Director of Kerry Holdings after 31 May 2019 but will continue my association as Senior Adviser to Kerry Group."
A day after Yeo announced his retirement, People's Power Party secretary-general Goh Meng Seng wrote on Facebook that he has been predicting that George Yeo will return to the PAP in time for the next General Election. He speculated on Saturday (13 Apr):
"At the beginning of this year, I was telling my close associates that there is a 50-50 chance that George Yeo would return to Singapore politics but no, he will not join TCB, most probably PAP instead.

"And yes, if he really returns to PAP, he will definitely contest in Aljunied GRC again. A real fighter will pick himself up from where he fell.

"It seems that this prediction may really come true, after his announcement of stepping down from Kerry Logistics.

"He didn't announce his "Retirement" but just stepping down and resignation from his directorship. He has put a hint that this is NOT a retirement and he will be "pursuing other interests".

"I also predicted that Criminal Charges will follow after the verdict of the current AHTC trial is out. Davinder Singh has somewhat made the WP MPs to admit in court that they had breached the Town Council Act. This will become the basis and prelude for Criminal Charges to be put up later.

"PAP with George Yeo leading the counter attack in Aljunied GRC while the main WP leaders cum MPs are thrown into deep trouble and WP in disarray will give them the best chance to win back Aljunied GRC.

"Other Opposition parties will inevitably suffer collateral damages when public confidence in Opposition will dip drastically if WP falls in the whole AHTC SAGA."
In a subsequent Facebook post published that same day, Goh continued that the PAP needs Yeo and that he is the ruling party's key to "fully capitalize" on the AHTC case. He wrote:
"It is proven in 2015 GE that a lost constituency could be won back by PAP when its previous past candidate went back to contest. This happened in Punggol East SMC whereby Charles Chong won back the seat from WP Lee Lilian.

"2) PAP lacks capable minister who could deal with China relationship. George Yeo's boss Robert Kuok is very well respected by the Chinese government and he has wide business network. George Yeo has deepen and widen his network in China which could help the current PAP government to deal with China's diplomatic relationship.

"3) PAP had spent great resources to hammer WP in the AHTC saga and it could not miss this greatest opportunity to take back Aljunied GRC. This is the greatest opportunity but apparently no current PAP minsters would dare to lead a team to contest in Aljunied GRC. Without a heavy weight, the chances of winning would be greatly discounted. All previous efforts would go to waste if this is the case.

"4) The impact of GEORGE YEO contesting in Aljunied GRC will be wide ranging. The whole GE campaign will be focused on Aljunied GRC and of course, the Town Council Saga will be blown up disproportionately. This will have multiplier effect on ALL OTHER Contests which All OPPOSITION PARTIES will be brush black with one single stroke.

"5) The narrative will be, in 2011 GE Aljunied GRC voters voted out PAP George Yeo with WP team replacing his team but in the end, created a mess. Will Voters want that to happen again, sacrificing "good Minister like George Yeo" with Opposition that may create a mess again in TC management?

"6) The physical appearance of George Yeo will enhance such narrative 1000 times.

"Such strategy is more than about winning Aljunied GRC, painting all Opposition as the same with one broad stroke. George Yeo is the KEY for PAP to FULLY CAPITALIZE on the AHTC Saga."
Earlier, in February, Emeritus Senior Minister Goh Chok Tong caused a stir when he announced that "George Yeo is back with the Aljunied Team! He is fighting fit."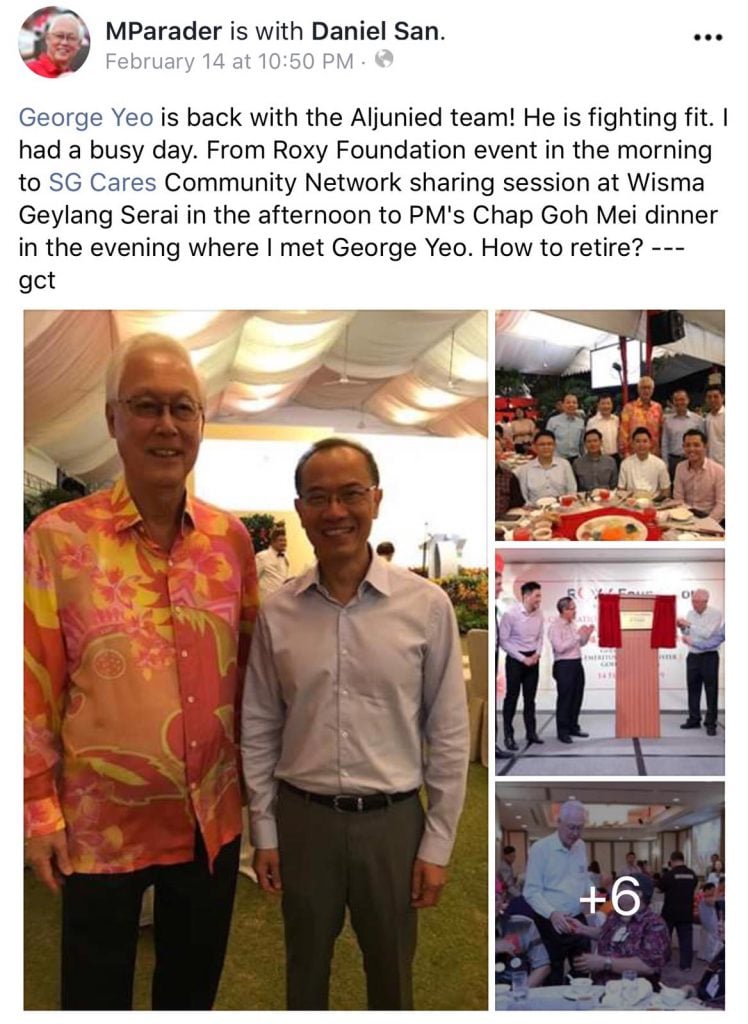 ESM Goh's words could be taken to mean that George Yeo, who retired from politics after being ousted from Parliament when he lost Aljunied GRC to the Workers' Party in 2011, is returning to politics and will contest Aljunied GRC in the next General Election.
Hundreds of netizens believed that this was what Goh Chok Tong meant and welcomed George Yeo back into politics. These netizens, however, were misled.
What ESM Goh probably meant through his carefully and cleverly-worded post is that George Yeo is "back with the Aljunied team" for just one event, when he met with PAP members who are now contesting the ward, at the Lunar New Year Reception.
George Yeo appears to have been seated at the same table as the Aljunied grassroots team at the event. Indeed, Victor Lye Thiam Fatt – the PAP candidate who contested Aljunied GRC in 2015 and lost to the Workers' Party – shared pictures of himself with Yeo at the same event and wrote:
"With old friend and former Foreign Minister George Yeo at the Istana Lunar New Year reception hosted by Prime Minister Lee Hsien Loong this Thursday night. Great (and rare) to have the Aljunied-Hougang clan together, though missing a few more members!"
George Yeo confirmed with the Chinese daily that he is not returning to politics and said that he was "just attending the dinner and gathering with the Aljunied team."
When the daily asked Yeo about ESM Goh's Facebook post, he "denied returning to politics and said that he had attended this year's dinner because he had time to catch up."
https://theindependent.sg.sg/goh-chok-tong-says-george-yeo-is-back-with-the-aljunied-team-a-cryptic-comment/
https://theindependent.sg.sg/ex-foreign-affairs-minister-george-yeo-earned-over-12-million-in-private-sector-in-2017/
Announcement from @George Yeo [HK-GMO] Dear KLN Colleagues I shall be stepping down as Chairman and Executive…

Posted by George Yeo on Friday, 12 April 2019
Follow us on Social Media
Send in your scoops to news@theindependent.sg