Veterinary clinic Ohana VetCare has received intense outrage for refusing to fire a pair of cruel nurses who posted videos of them abusing the sick animals in their care on social media. The videos show the nurses bouncing and juggling the testicles of animals that had been neutered, bullying animals that had just undergone surgery at the Loyang Point clinic and suffocating a cat.
The cruel videos were accompanied by captions like "bouncing testicles," "I can juggle the balls," and "RABBIT'S BALLS HAHAHAAH". The animals that can be seen in the videos appear to be distressed but the nurses continue their antics despite the discomfort of the sick animals.
Screenshots detailing the abuse against other animals in the clinic are also circulating online. In one instance, the nurses were supposed to care for a cat that had its ears amputated due to an infection. Instead, they took a video of themselves shouting and banging things near the animal before laughing about the fact that the cat is deaf.
In another video, they removed a cone a blind dog was wearing and called out to the dog, causing the dog to walk towards the sound and bang into a wall.
GRAPHIC CONTENT WARNING: VIEWER DISCRETION IS ADVISED.
Warning: Gruesome contentVet Clinic nurses at Ohana VetCare in Loyang "having fun" with pets' testicles, making fun of sick poor animals which need care.Must expose and take them to task! SPCA Singapore

Posted by Kakis' Club on Tuesday, 12 November 2019
While the nurses' behaviour quickly drew revulsion, the clinic management's response to the gruesome videos left members of the public even more outraged.
In a Facebook post published in the wee hours of the morning today (13 Nov), one of the clinic's co-founders Dr Francis Tay wrote that while he and his partner Dr Ong Wei Jun were "heartbroken" when they were informed about the videos. Dr Tay said that he "imagined Ohana as a perfect little baby but now there is a large ugly mark on the baby which we can do nothing about."
Although the videos made him "cringe" at the sight of his own scrub top, Dr Tay said that he and Dr Ong would not be firing the nurses. Revealing that they would not be terminating the nurses' services since it is "not [their] style" and since they did not believe the nurses acted out of malice or cruelty, Dr Tay instead wrote the issue off as a case of immaturity.
He said: "Termination of their services was not on either of our minds. Our reasons are as follows: (1) This would be taking the easy way out, and succumbing to the public outcry for blood is not our style (2) The actions were not done out of malice or cruelty (3) It was not an integrity problem.
"The problem was immaturity. While immaturity can have consequences that are just as damaging, I found it impossible to say that I have not done immature things in life. My wife would be nodding when she reads this, reflecting on my behaviour for the last 20 years."
Dr Tay went on to share about the positive aspects of the two nurses, Leandra and Janice. While he admitted that they receive "alot" of complaints about Leandra, he praised their compassion and called them "firm friends."
While Dr Tay acknowledged that the videos were "inexcusable at many levels" since it made him and Dr Ong "cringe" and tarnished the image of their clinic and their industry, he said: "We are going to take disciplinary action against the team but it would not be a termination. That's because we all do immature things now and then. And these kids are half my age at most."
Revealing that he did not seek Dr Ong's approval before publishing this post, Dr Tay shared a bible verse about judging others and concluded: "The mark on the baby might be permanent but I guess we all move on in life despite setbacks."
The Facebook post was later deleted but netizens managed to screenshot the full post before it disappeared: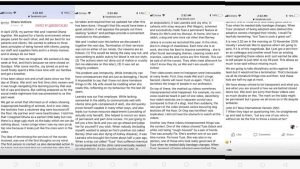 One netizen also got in touch with Dr Ong, who explained: "They want us to kick them [the nurses] to the curb and abandon them. They are young and have their own inner demons."
When the netizen, Facebook user Jessica Tan, protested that the clinic is "jeopardizing innocent and vulnerable animals with their inner demons," Dr Ong responded: "I am sure they have learnt. The guilt they are suffering is heavier than any punishment we can dish out."
Sharing a screenshot of her conversation with Dr Ong, Ms Tan wrote: "I am sorry to post this Convo but for those who continue to support them, to each his own, just know that the "internet" are not being cruel, we are humans with animals who we treat like family and speak up for them, for the voiceless, weak and vulnerable.
"Not saying that they did not or do not do a good job but to condone people with inner demons to continue working there at your furkids expenses or ours…The answer is clear for most. But as said, to each his own!"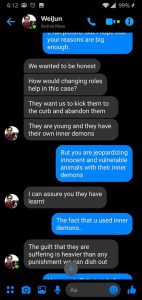 Ohana VetCare has since deleted Dr Tay's original post and published a more professional statement. Calling the nurses' behaviour "wholly inappropriate behaviour for people working in veterinary care," the clinic said that it has counselled and suspended the nurses:
"It has come to our attention that two of our nurses posted a video on their personal social media account of themselves, in our clinic, after several of our patients had been through various operations.

"The video displayed wholly inappropriate behaviour for people working in veterinary care, where our primary aim is always to ensure the welfare of all animals.

"We have spoken with the nurses and have asked them to remove the video from their social media account. We have also decided to suspend them with immediate effect while we investigate the incidents captured in their video further. We have also counselled the nurses, who helped to film the video. We have also reminded all our employees to be vigilant against such behaviour to prevent it from happening again.

"We want to assure all our clients and members of the public that we will take remedial action to ensure that every of our patients' care and wellbeing is taken seriously and we will not compromise on these standards.

"These actions do not reflect the clinic's standards nor any of our other employees' standards. We have a strict policy of treating each and every patient with respect. To further raise our level of care for our patients, we will be conducting more staff training on good animal handling skills to ensure a fear-free environment for all our patients."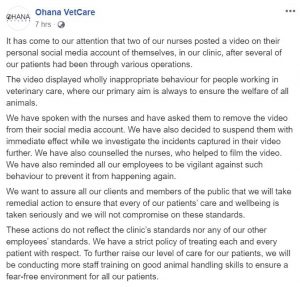 Despite the new statement, members of the public are continuing to condemn the nurses' actions and called Ohana VetCare out for defending their cruel actions: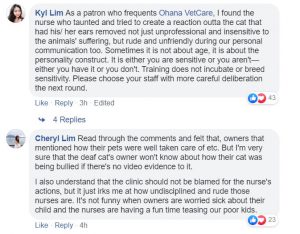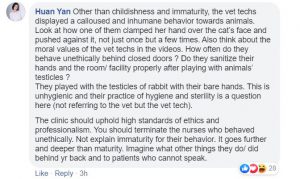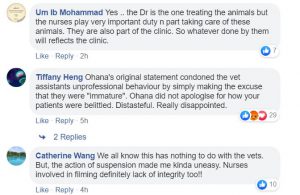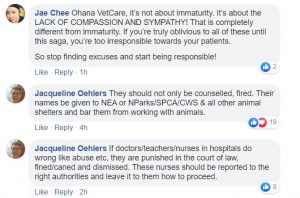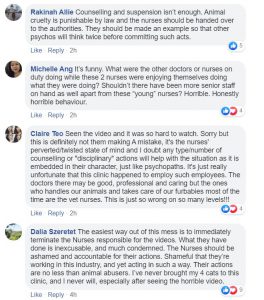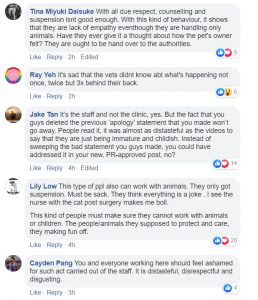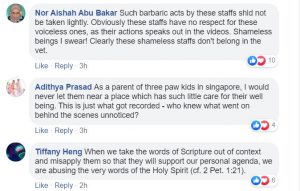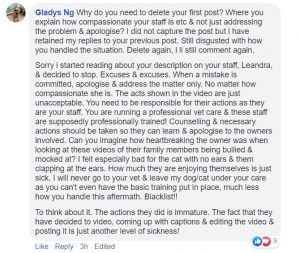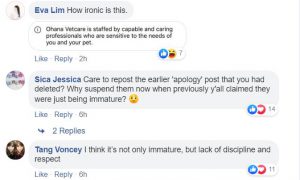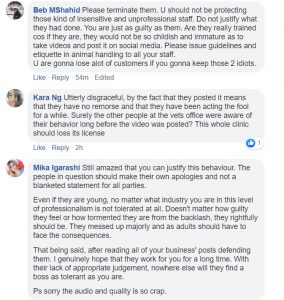 Read also:
Woman says vet clinic charges walk-in fee of $72.11, but no one answered her calls to get an appointment – Singapore News 
African grey parrot in Toa Payoh missing since Oct 29, his human family offering the public S$2,000 reward to help in his safe return – Singapore News 
ClickClinic lets you check crowd and queue at clinics online, receive text notifications – Singapore News