12 boys in a Thai youth football team and their coach were trapped inside an underwater cave complex for about 13 days and counting, as rescue efforts are still on going.
Yesterday, Chiang Rai Governor Narongsak Osottanakorn told reporters, "We are trying to find alternative techniques to reach the 13", because other alternatives may not be entire feasible.
The other alternatives that were considered include teaching the boys to dive and then swim out, remaining in the cave for about four months until the wet season ends, or drilling a shaft into the cave from the forest above.
Well, one netizen here in Singapore came up with a fresh alternative.
Grace Yu, a literature teacher and graduate from the National University of Singapore suggested "sending a submarine to get them out the underwater way".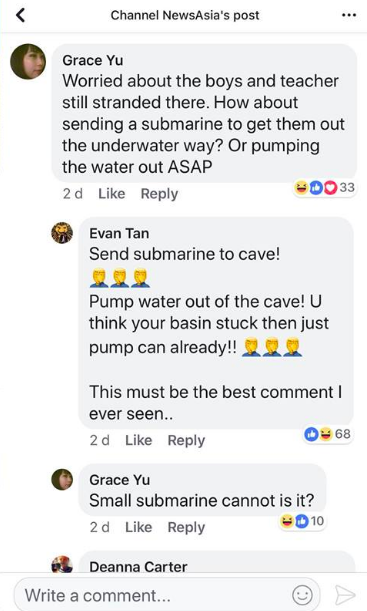 Her comment, on a post by Channel NewsAsia was featured on Facebook page Fabrications About The PAP.
Another netizen, Evan Tan, replied and said "Send submarine to cave! Pump water out of the cave! U think your basin stuck then just pump can already!!"
He added, "This must be the best comment I ever seen..", to which Grace replied, "Small submarine cannot is it?"
Most netizens mock her, but some actually laud her for her intentions.
The consensus amongst netizens seems to be that while her comment may have been a little naïve, her suggestion whether feasible or not, was an effort to help.
At the end of the day, aren't intentions all that matter?Follow us on Social Media
Send in your scoops to news@theindependent.sg