Accusations of racism and islamophobia have sprouted up as a netizen accused the authorities conducting enhanced security checks at an MRT station of singling out his mother for a full body scan.
Facebook user Brossy Meowington wrote: "Stop this security check nonsense lah. You guys singled my mom out and did a full body scan on her out of all people. Why? Because shes a Muslim and wore a jubah and hijab ah?"
Calling the enhanced security exercise "unnecessary," the netizen wrote that the incident "humiliated" his timid mother: "She's a very timid and shy woman. It made her feel so embarrassed an humiliated. Stop this nonsense lah. Want to act as if Singapore have a tight security, is so high tech and advanced but this is so unnecessary lah. Bloody nonsense."

Sharing the netizen's post to their followers, Facebook group Rilek1Corner wrote: "SMRT u racist? u islamophobic? why u single out poor and innocent Muslimahs for your security check?"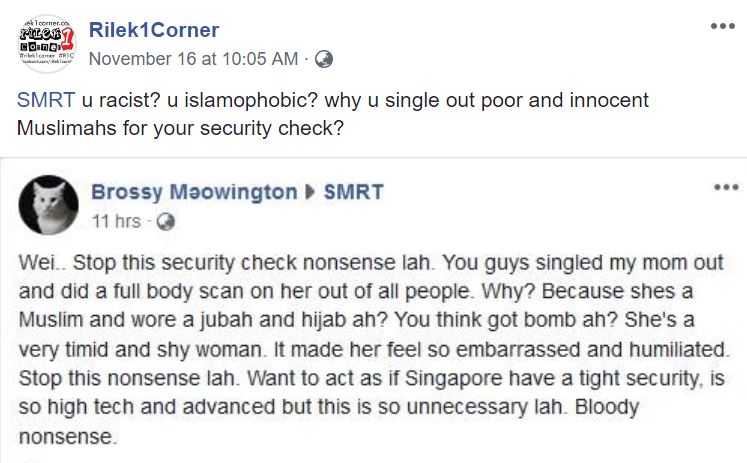 Although the netizen wrote directly to rail operator SMRT's Facebook page, the enhanced security screening trial project was initiated by the Land Transport Authority (LTA) – a statutory board under the Ministry of Transport.
The LTA revealed earlier this month that it will require commuters to undergo extensive security measures before they will be allowed to entered the gantries at MRT stations, as it rolls out an enhanced security screening trial.
Like travelers at airports, MRT commuters will be required to walk through a metal detector and put their belongings through X-ray scanners. Security officers at MRT stations will soon also be equipped with handheld metal detectors to scan commuters.
Such security equipment was first deployed at emergency exercises in Feb this year. According to a senior LTA official who spoke to TODAY, it took an estimated eight to ten minutes to organise and clear each commuter, before they were allowed to go through the fare gates.
Despite the LTA's assurances that the screenings, which went on floors last Monday, are "not so mafan," hundreds of Singaporeans slamming the statutory board for adding additional travel time to their train journeys and for not spending Government funds "wisely":
https://theindependent.sg.sg/hundreds-of-commuters-blast-lta-for-introducing-extensive-security-checks-at-mrt-stations/
https://theindependent.sg.sg/lta-claims-extensive-security-checks-are-not-so-mafan-even-as-commuters-continue-to-decry-time-consuming-screenings/Follow us on Social Media
Send in your scoops to news@theindependent.sg