Following the People's Action Party (PAP) elections held at the Singapore Expo on Sunday, November 11, Lim Tean, chair of new Party People's Voice took to social media to call out the Chief Executive Officer of Temasek Holdings for being dressed in all white and attending PAP meetings.
In a Facebook post on Sunday, he questioned, "Is Ho Ching A Member Of The PAP ?"
https://www.facebook.com/MrLimTean/photos/a.1896633250604872/2161653367436191/?type=3&theater
He also went on to ask, "Today,I am left wondering why she was at the PAP Convention this morning dressed in all-white? Can someone enlighten me? Is she a member of the PAP?"
Mr Lim cited a meeting with Vice President of China Wang Qishan that Ho Ching attended, saying that while she may be the wife of Prime Minister Lee Hsien Loong, it was unusual protocol for her to attend official meetings.
In his post, he continued, "Is the Head of Temasek also a member of the PAP? If so,I consider it to be highly improper as the Head of our Sovereign Wealth Fund should never be associated with a political party!".
Mr Lim's post was met with much support from netizens, receiving almost 900 reactions, 500 shares and about 200 comments.
Many also expressed that this was a precarious situation with a possible conflict of interest being that she serves as the head of a sovereign wealth fund.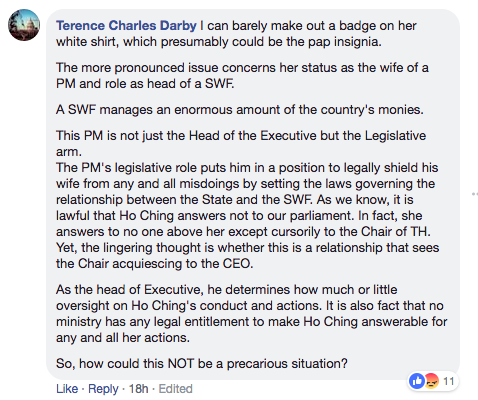 https://theindependent.sg.sg/lim-tean-slams-ho-ching-for-attending-meeting-with-chinas-vice-president-wang-qishan/
________________________________________________________________________
obbana@theindependent.sg
Follow us on Social Media
Send in your scoops to news@theindependent.sg