Hundreds of netizens have excoriated this year's national costume that will be worn by Miss Universe Singapore as she represents the nation in the international beauty pageant.
Designed by Moe Kasim, the dress depicts the US-North Korea summit that was held in Singapore in July this year. The costume features a digital image of a handshake between two people – one arm features the US flag while the other bears the North Korean flag – set over the Singapore skyline, printed on a long blue skirt.
The bodice of the dress consists of a white peace symbol over a nude fabric. The dress is completed with a pair of 3m-long white dove wings, will be worn by Miss Universe Singapore Zahra Khanum when she appears on stage next month in Bangkok for the pageant's national costume parade.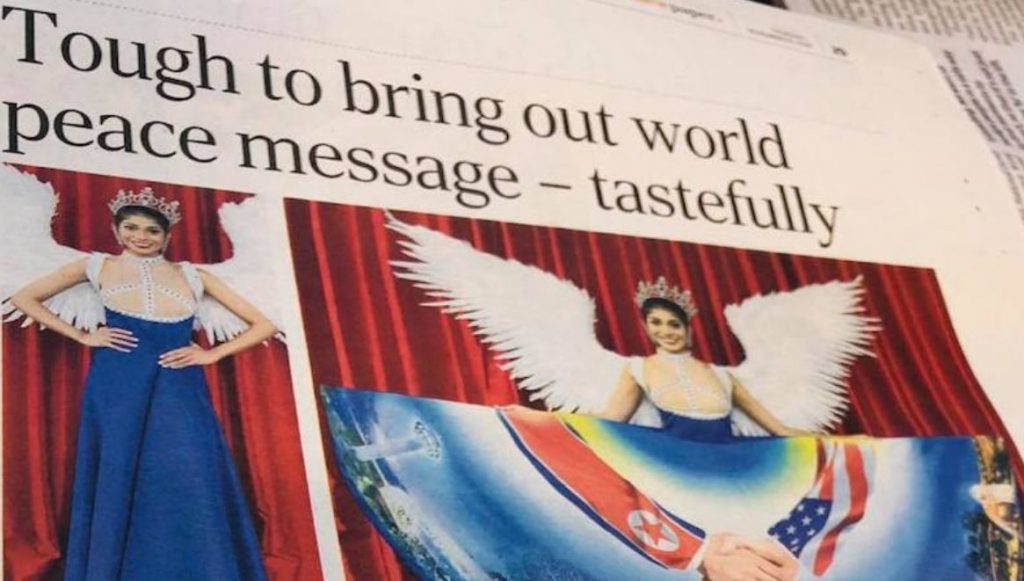 This is not the first time that designer Mr Kasim has designed Singapore's national costume for the woman representing the nation at the Miss Universe Pageant – this is the third year in a row that he has done so.
Revealing that he chose a "world peace" theme for the dress this year, Mr Kasim told the New Paper: "The toughest part was bringing out the message tastefully through design. I had to consider the political sensitivities and what it all meant to Singapore and to the world community…without (creating) any misinterpretation."
Noting that "as the summit was about making peace, it was only natural to go with the World Peace theme," Mr Kasim added: "This year's costume is different as it does not have any multi-racial, architectural or iconic elements or themes at all. Instead, it is based purely on an internationally-watched historic event in Singapore's calendar, which is rather unique."
The 24-year-old Miss Universe Singapore told the publication that she found the dress to have a "very serene and calming effect.". She added: "My first impression of the costume was that it looked absolutely angelic and it truly did embody the essence of world peace…It definitely represents something we all need, which is to promote a sense of unity and friendship, rather than hatred and anger."
Netizens, however, have strongly disagreed. Sharply criticising the design of the dress, several netizens asked why the national costume of Singapore bears the flags of two foreign countries: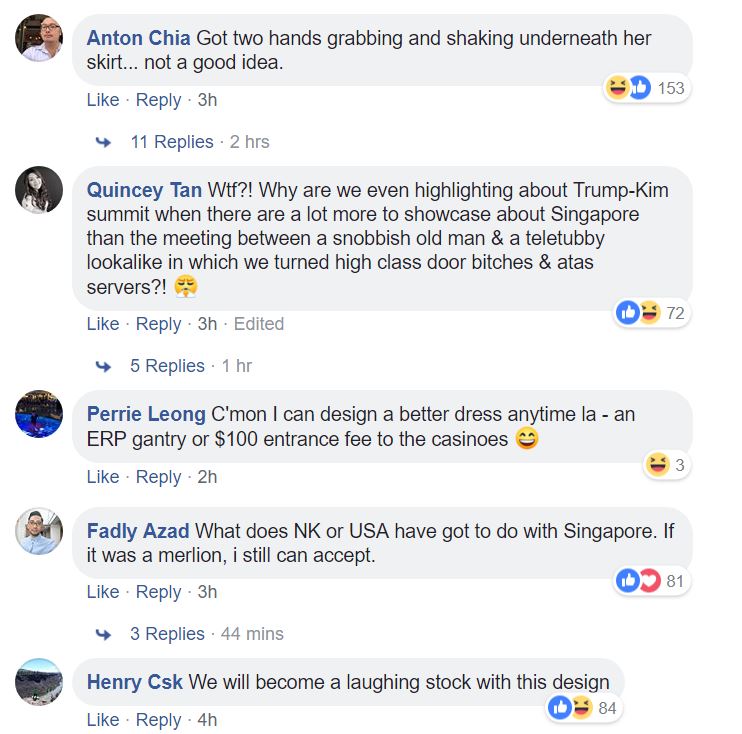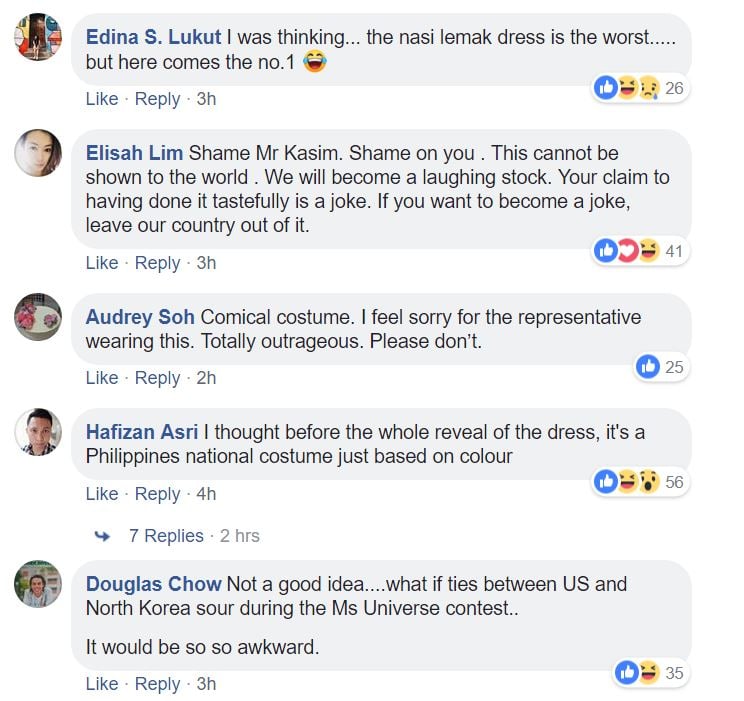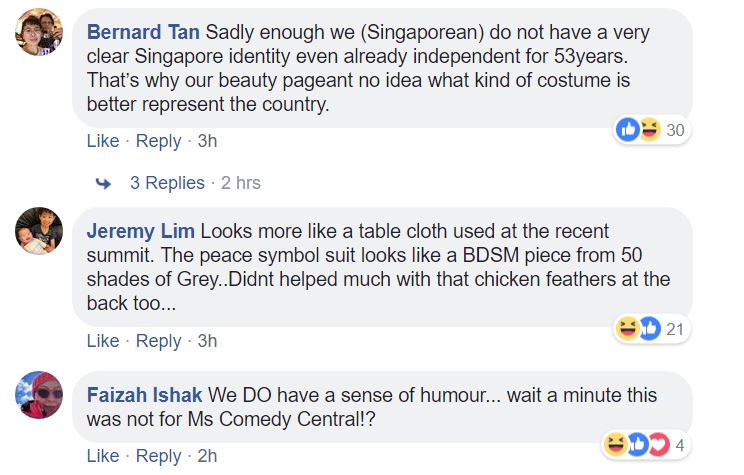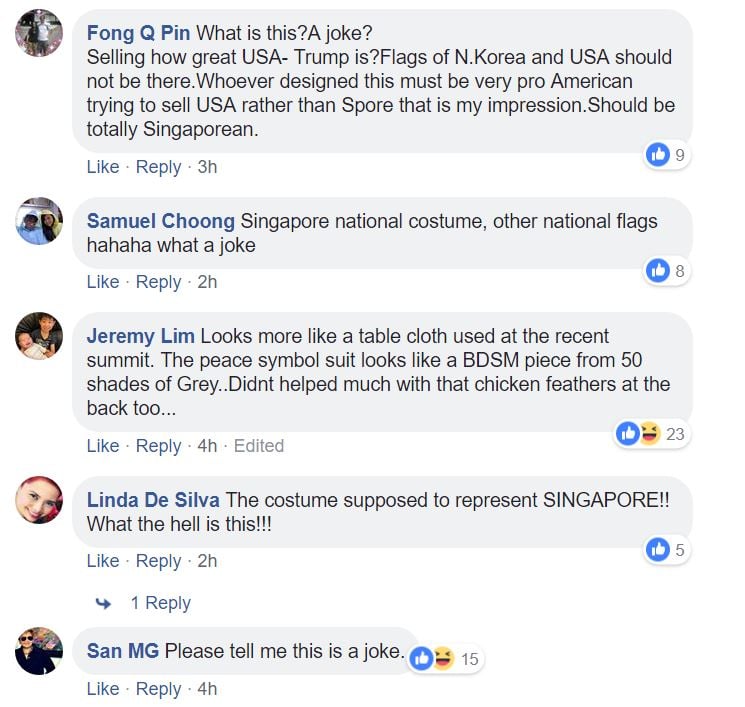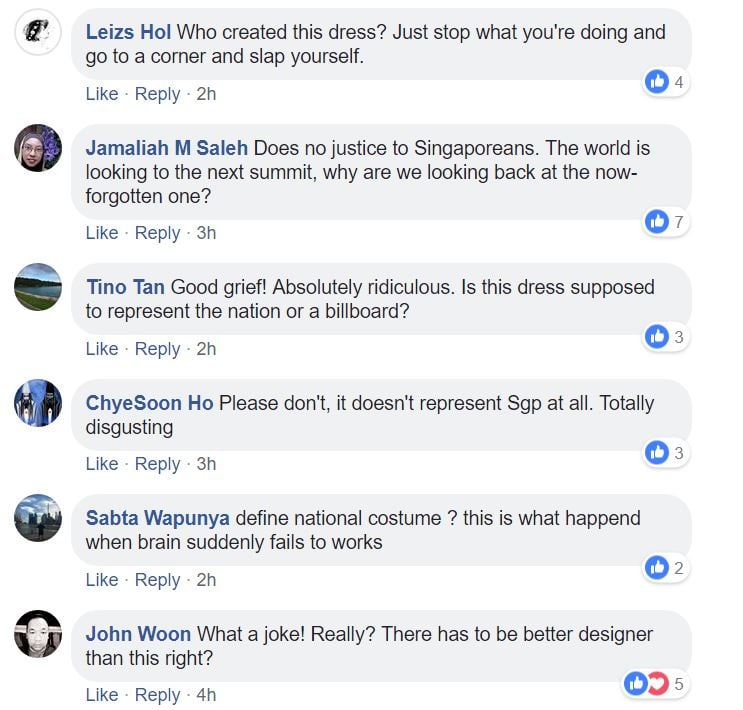 Follow us on Social Media
Send in your scoops to news@theindependent.sg 
No tags for this post.