A soldier who knew late Corporal First Class (National Service) [CFC (NS)] Pang Wei Chong, Aloysius, but was not always on good terms with him, has shared a heartfelt tribute in the wake of Pang's untimely demise.
CFC (NS) Pang, an armament technician, had been undergoing their reservist training in New Zealand and had been carrying out repair works inside a self-propelled howitzer with his team last Saturday when the gun barrel was lowered, crushing him. Despite the best efforts of medical professionals, Pang succumbed to his injuries and passed away.
Facebook user Chase Yap Baofa who served ICT training with CFC (NS) Pang wrote on social media that he and CFC (NS) Pang shared a mutual dislike of one another: "Aloyious Pang. I don't like him, and I always have the impression that he don't like me too.
"ICT in Singapore I always had the impression he's the guy who does nothing, sit in the tonner and seldom get called up for duties.. I'm not well liked by him too, me the signaler, always look like the slacker, just sit in the bronco while tech squad does the real work."
This ICT, however, showed Yap a different side of CFC (NS) Pang. He shared:
"But this ICT it was different. Our battalion fired live rounds. That's when I saw Aloyious worked hard. For the 3 days I was out in the field, I hear my MTO keep calling for Aloyious for advice. He is well trusted by the team, knows his stuff, giving very clear advices and suggestions to our MTO on what actions to take on the repair of the guns.
"I remember him as the guy who always sit opposite of me in the bronco behind the driver. I remember him being the guy who brings me my meals, as I'm still in the signaller seat manning comms. I remember him being the guy who looks up at me when I changed the anntena on top of the bronco when it was raining to make sure I don't fall.
"I remember him, being the guy that when I sprained my leg this ICT and was about to be sent back to camp, the guy who carried my field pack, riffle and helmet to me. I remember the last words exchanged that day, was to take care, rest well. And thank you."
Yap concluded his heartfelt post by saying: "Rest In Peace Aloysius. Been an honor to serve with you."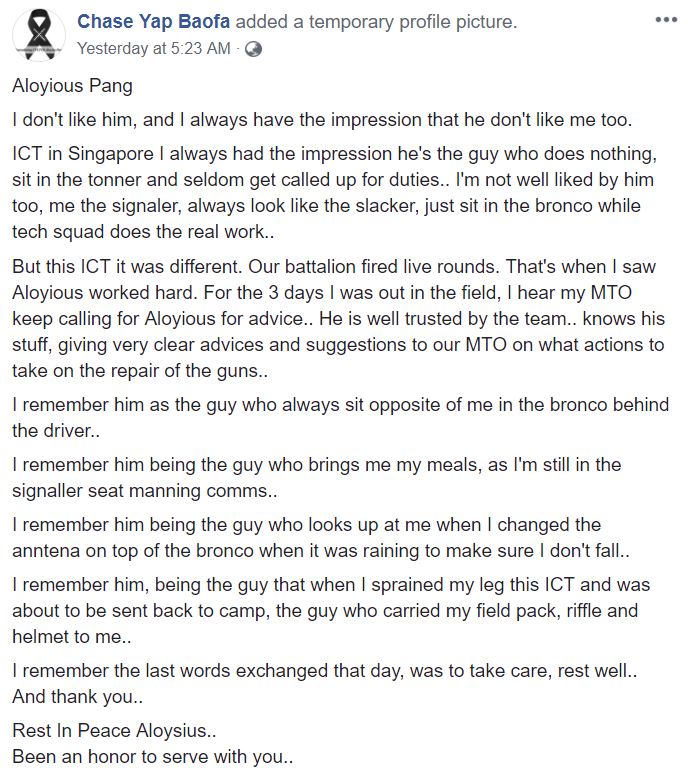 https://www.facebook.com/photo.php?fbid=10157205574759284&set=a.427980814283&type=3Follow us on Social Media
Send in your scoops to news@theindependent.sg