Former Nominated Member of Parliament (NMP) Calvin Cheng has said that Singaporeans' frustration with Ramesh Erramalli's high pay is borne out of "jealousy". In a Facebook comment, he added: "If they (Singaporeans) are capable they can also make that."
Ramesh Erramalli became infamous late last month after a video showing him berating an elderly security guard went viral on social media on 25 Oct. In the video, Ramesh can be seen verbally abusing a hapless security officer at the Eight Riversuites condominium with vulgarities over parking matters.
Despite the security guard's explanation that he was simply enforcing the rules, Ramesh continued to berate the worker. He exclaimed: "I buy your f****** property for S$1.5 million you know. This is 1.5 million you know" before adding, "We're not staying in a HDB you know?"
Netizens subsequently identified Ramesh as an India-born naturalised Singapore citizen who works at global financial services company JP Morgan in Singapore, after he exposed his own name and phone number in the video.
Outraged over his behaviour, tens of thousands of netizens blasted Ramesh for disrespecting the security guard and insulting the majority of Singaporeans who live in HDB flats. Ramesh has since apologised to the security guard in person.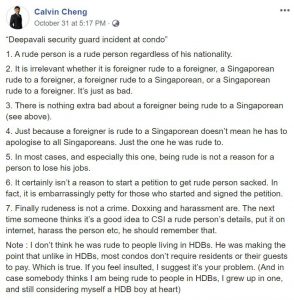 Last Thursday (31 Oct), Mr Cheng shared his thoughts on the viral incident on Facebook and said that Ramesh's rudeness has nothing to do with his nationality.
Asserting that there is "nothing extra bad about a foreigner being rude to a Singaporean" and that he does not need to apologise to all Singaporeans for his behaviour, Mr Cheng added that Ramesh's behaviour does not warrant losing his job and does not justify petitions calling on his employer to sack him.
Responding to his post, one netizen suggested that the anger that was directed towards Ramesh could be compounded by rumours that he is paid a monthly salary of over S$60,000 while the local unemployment rate and retrenchment numbers climb.
Facebook user Diana Giam said, "The saga might have started from rudeness. But since his pay was disclosed (I am not sure how his pay of $66k plus $13k allowance was made known to public) , many locals are behsong with our govt now."
Mr Cheng responded and said that Singaporeans' frustration with Ramesh Erramalli's high pay is borne out of "jealousy". He added: "If they (Singaporeans) are capable they can also make that."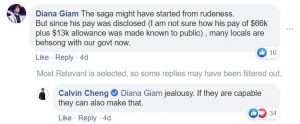 One netizen, Facebook user Jay Raj, asserted that Mr Cheng's post constitutes a classic case of the rich defending the rich. Mr Cheng responded: "i think you will find statistically that someone staying in a 1.5m condo isn't rich. He is middle class. As in from stats from national census. Thanks."

Another netizen said that the anger towards Ramesh reflects how unhappy Singaporeans are with the behaviour of some foreigners and that the petition is to be commended since it sends a strong message that Singaporeans do not take abuse lightly.
Disagreeing that the petition is justified, Mr Cheng replied: "he only had to apologise to the security guard. The security guard accepted. It's not up to any other 'commentator' to accept or not. Nothing to do with them."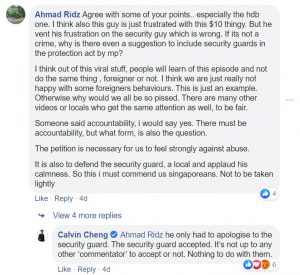 Mr Cheng also said that he does not think the level of anger directed towards Ramesh would be the same if a Singapore-born resident had berated a security guard in the same way, in response to another comment: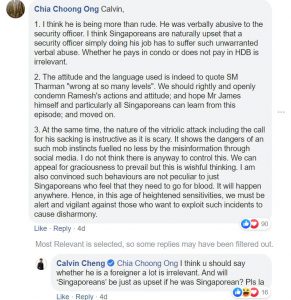 Mr Cheng was appointed to a two-and-a-half year term as NMP in 2009. While NMPs were supposed to reflect nonpartisan views, Mr Cheng was a member of the ruling party's youth wing, Young PAP, when he was appointed NMP. He resigned from Young PAP after TODAY questioned his affiliation to the ruling party.
Ex-NMP Calvin Cheng suggests that the authorities should "jail and cane" Preetipls and Subhas Nair
Netizens outraged over replacement of security team at Eight Riversuites condo after spat involving JP Morgan staff