Workers' Party (WP) Member of Parliament (MP) for Hougang Single Member Constituency (SMC), Png Eng Huat, has alleged that his ruling party opponent in the 2015 General Election has claimed or implied that he is implementing the Housing Development Board's (HDB) Neighbourhood Renewal Programme (NRP) in the ward, when the WP Town Council is actually in charge of the upgrading works.
Hougang SMC has been held by veteran WP leader Low Thia Khiang since 1991. In the watershed 2011 General Election, Mr Low left the SMC to lead a team contesting Aljunied Group Representative Constituency (GRC) and fielded Yaw Shin Leong in Hougang who went on to be elected as MP for the ward.
The WP won Aljunied GRC, which historically became the very first GRC an opposition party in Singapore has ever won. A by-election was soon called in Hougang when Mr Yaw was expelled from the party and the WP's new candidate, Mr Png, soundly defeated the People's Action Party's (PAP) Desmond Choo.
In the 2015 General Election, fresh PAP candidate Lee Hong Chuang was fielded to contest Hougang SMC. Mr Lee was defeated by the incumbent, Mr Png.
Despite his defeat, Mr Lee continues to remain active in Hougang. A chairman of the PAP's branch in Hougang, Mr Lee can be seen in many community and RC events. He was even put in charge of distributing the Merdeka Generation Package to residents in Hougang, despite not being elected.
In a Facebook post published on Saturday (15 June), Mr Png said that residents in his ward have told him that Mr Lee – the candidate Mr Png defeated in the last election – has claimed or implied that he is implementing the HDB NRP in the area.
In actuality, the WP Town Council is in charge of implementing the NRP and has been progressively rolling out upgrading works in the ward.
Revealing that "publicity about the upgrading, featuring the previous PAP candidate, started to appear" in his ward as his town council was implementing the NRP, Mr Png clarified that both the PAP and the HDB have clearly said that it is the town council, led by elected parliamentarians, that is in charge of implementing the NRP.
During the 2016 Bukit Batok by-election, the PAP said that a candidate who has not been elected cannot carry out the NRP plans for the estate and that the implementation of the NRP is incumbent on whichever candidate is chosen to lead the town council.
The PAP added that it is the town council, run by the elected MP, that uses its discretion to prioritise and nominate neighbourhoods for the NRP, when it applies for government funding. The HDB, a statutory board under the National Development Ministry, has also said that it is the town council that carries out NRP plans.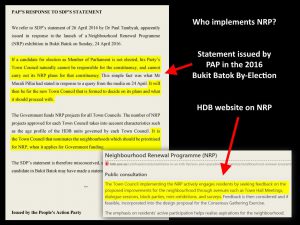 Residents at Hougang, however, have asked Mr Png "how is it that a defeated PAP candidate, who was not chosen by them to lead the TC, could claim or imply that he was implementing the NRP, when his own party said it cannot be done unless the candidate was elected."
Questioning whether "the PAP gone back on its word" or whether the defeated candidate, Mr Lee, was misguided, Mr Png asked:
"If a PAP candidate is expected to implement the NRP, come what may, even if he is not elected as MP, then why did the PAP mislead the voters of Bukit Batok in 2016? The party has to decide which is which."
Asserting that Hougang residents have given him the mandate to lead the town council for the past six years, Mr Png promised that he will "continue to implement the upgrading plans for the estate but minus the political doublespeak to mislead, confuse, and divide the community over such public-funded programmes."
The Independent has contacted Mr Lee for comment. Read Mr Png's post in full here: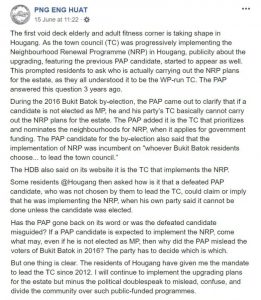 Follow us on Social Media
Send in your scoops to news@theindependent.sg