The secretary-general of the Progress Singapore Party (PSP), Dr Tan Cheng Bock, extended his Deepavali greetings in Tamil to all celebrating the festival. This gracious gesture highlights the Progress Singapore Party Deepavali Celebration, underlining their commitment to inclusivity and multi-cultural respect.
In a timely social media post on October 24, the PSP showcased a video of Dr Tan Cheng Bock's Deepavali greetings rendered powerfully in Tamil. The greetings resonated deeply with the audience, amplifying the party's engagement with different communities.
Along with the video, the post was captioned, "Deepavali, 'Festival of Lights', celebrates the victory of light over darkness. Light symbolises wisdom, bringing enlightenment and understanding". This poignant message underscored the true essence of Deepavali greetings in Tamil, drawing attention to the wisdom that Dr. Tan Cheng Bock intended to convey.
As a bit of trivia, they wrote, "Did you know that besides the Hindus, Sikhs, Jains, and even Buddhists celebrate Deepavali?"
The party further announced their upcoming PSP Tekka Market Walkabout Event. "On 26th October 2019, Team PSP will be at Tekka Market, from 11.30am to 1.00pm", it was stated. This walkabout not only shows the party's commitment to staying connected with the grassroots but also illustrates the effort to spread the spirit of Deepavali beyond Deepavali greetings in Tamil to real-world engagements.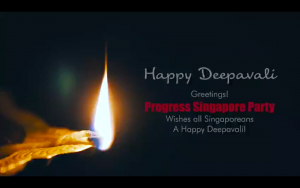 /TISG