A Singaporean has praised the town council of Aljunied GRC, a ward held by the Workers' Party (WP), for speedily waiving his father's overdue interest in a matter of minutes instead of taking the standard five working days.
Aljunied GRC and the Aljunied-Hougang Town Council (AHTC) is run by Low Thia Khiang, Sylvia Lim, Pritam Singh, Chen Show Mao and Muhamad Faisal Bin Abdul Manap.
In a Facebook comment published yesterday, Raymond Wee revealed that his father is in poor health and was not able to pay his conservancy and service bills for about 14 months, thus incurring a S$700 overdue interest charge.
Mr Wee, who had been overseas, recently returned to Singapore and helped his father complete his documentation and receive the proper medical aid he needed. He then visited Aljunied-Hougang Town Council (AHTC) to appeal against the interest that had been levied.
He wrote: "Within 15 MINUTES OF WAITING AND 5 MINUTES OF STUDYING MY APPEAL, my town council waived the interest charge of $700+ based on medical and compassionate grounds, I paid the outstanding principle amount – SGD$70 x 14 months."
Praising the opposition-run town council, Mr Wee said: "Everything is settled. WP and my Town Council deserve my respect, support and admiration. They lead by example, not by words."
Netizens responding to Mr Wee's post praised WP and told Mr Wee that he is fortunate to reside within the opposition-held ward.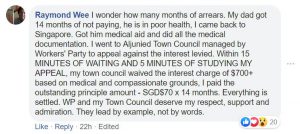 -/TISGFollow us on Social Media
Send in your scoops to news@theindependent.sg