Supermodel and actress Cara Delevingne recently shared that she feels like 'the luckiest girl in the world' for dating actress Ashley Benson.
The actress was honoured with the Girl Up #GirlHero award at the #GirlHero award ceremony on 13 Oct and she took the opportunity to praise her girlfriend for supporting her.
Speaking to E! News on the red carpet, she said: 'It's so nice to have someone in my life that supports me so much and loves me. I'm the luckiest girl in the world.'
Her girlfriend reciprocated the love, posting a video of Cara accepting her award on her  Instagram story. 'So proud of you. I love you @caradelevingne,' she gushed.
Cara shared that it was her honour to receive the award, saying that it was a 'big deal' to be acknowledge from an 'amazing organisation.'
'It's so important to be helping galas, especially in the place where they need it most,' she said. 'To be honoured by them is crazy, because I should be honouring them.'
The pair has been dating for over a year and she previously revealed that she was a 'better person' for being in love. 'I'm just better when I'm in love,' she told Elle UK magazine.
'That doesn't have to mean with someone. It can also mean with myself. 'It just feels incredible when you're not alone, when you're facing the world with someone else.'
She later added that she no longer feels the need to be 'secretive' over their relationship, and is 'proud' of the love they have for each other.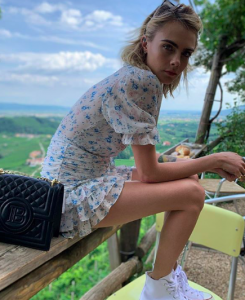 The 27-year-old is an English model, singer and actress. In 2009, after finishing school, Cara signed with Storm Management.
Cara won Model of the Year at the British Fashion Awards in 2012 and 2014.
Cara debuted her acting career in a minor role in the 2012 film adaptation of Anna Karenina. /TISG