Jayden Tan has done it again. The photographer, art director and Creative Group Head at GOODSTUPH, a social media agency, has yet again celebrated National Day in a uniquely Singaporean way, this time with six everyday superheroes in a series called "The Majulahs."
And what superheroes they are. According to the artist, the superheroes Sauce Girl, Parking Pontianak, The Profanity, R. Harmony, Milo Marvel and Lady Chope are designed to symbolize and celebrate everyday Singaporeans "after a crazy Asian force has misrepresented Singapore's rich culture and heritage with untruths, extravagant twists and a warped idea of the everyday Singaporean."
Yes, you read that right.
Sauce Girl wears a neckpiece made of McDonald's garlic sauce, and her "liquid manipulation powers first manifested when she faced a scarcity of Asian sauces while studying in London." She is an Omega-level mutant, who has "a telepathic "saucy sense" to add zhap whenever and wherever needed."
Paking Pontianak is "the lawful superhero of the lot." This righteous inventor and hacker apparently cannot wait to punish lawbreakers. She designed a special bodysuit that has superhuman powers, including that of slapping people with a summons.
The Profanity is a "less politically-correct" cousin of the nation's beloved Merlion. She is a "keeper of efficiency" with "enhanced intuition, verbal invulnerability, and laser-like word-of-mouth that spews from One Fullerton to East Coast."
R. Harmony is the multicultural superhero the nation has always needed. She repels evil, absorbs negativity and brings peace wherever she goes. Jayden Tan writes of her, "Regardless of race, language or religion, she aims to build a democratic society based on justice and equality, so as to achieve happiness, prosperity and progress for our nation."
Milo Marvel used to drive a Milo van, until one day when a comet stuck his van "after a Sports Day event at Bishan stadium." This gave him incredible speed, strength and agility and he is able to distribute mugs of Milo, and therefore happiness, wherever he goes.
Lastly, there's Lady Chope, the leader of the Majulahs. Another Omega-level mutant (whatever that means). Always ready with umbrellas, tissues and staff passes, lady Chope has superhuman kiasuism, strength, and sight. In her downtime she works as an OL.
Singer Joanna Dong portrays Lady Chope, while Dan Ng, a photographer, is photographed as Milo Marvel. Comedian Preetipls is R. Harmony. Sauce Girl is Xenia Tan, Parking Pontianak is Fauzi Aziz, and Pat Law is The Profanity.
Netizens have loved and embraced the superheroes.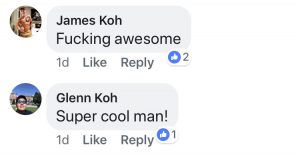 Follow us on Social Media
Send in your scoops to news@theindependent.sg