PAP representative Shamsul Kamar has apologised for the grossly misspelled Tamil words in door-hanger style flyers he left at homes at the Kaki Bukit division of Workers' Party (WP)-held Aljunied GRC during his recent house visits.
Shamsul is one of five non elected PAP representatives/branch chairmen in the opposition-held ward. Three of these five branch chairmen, including Shamsul, faced off against the WP parliamentarians in the 2015 General Election and lost.
Shamsul drew intense flak yesterday for the errors which many felt was an "insult to Indians". The netizen who uploaded a picture of the brochure to social media, Facebook user Saravanan Naturopath, blasted: "If you have so much money to print this advise, you could have considered putting the Tamil right. What a shame? You mean you do not anyone who knows Tamil in your circle? What an insult."
Many asked how the errors could escape the notice of the team preparing and printing the flyer or Shamsul's grassroots team and volunteers who distributed the flyer and asked why Shamsul or his team did not seek confirmation with someone who knows Tamil on whether the translation is accurate.
Shamsul has since apologised for the oversight. Promising to rectify the situation immediately and assuring netizens that he takes this matter seriously, Shamsul wrote on Facebook:
"It was brought to my attention that there has been an error in the translation of our door hangers in the Tamil language. To all Tamil residents who received the brochure, I deeply apologise for this oversight and for any unintentional offence caused.

"My team and I take this issue seriously, and we will ensure that this error is corrected immediately, stop issuing this batch of brochures and will ensure that such a mistake will not be repeated in the future. Once again, I apologise to all our Tamil friends and will make good on this matter immediately."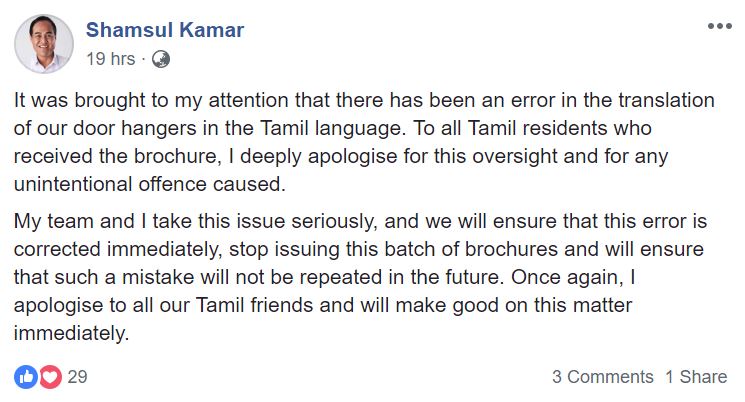 It is unclear whether his apology, published last night, was received well. There are only three comments to his original post, thus far. All three commentators seem to indicate that there is no use apologising since the damage is done: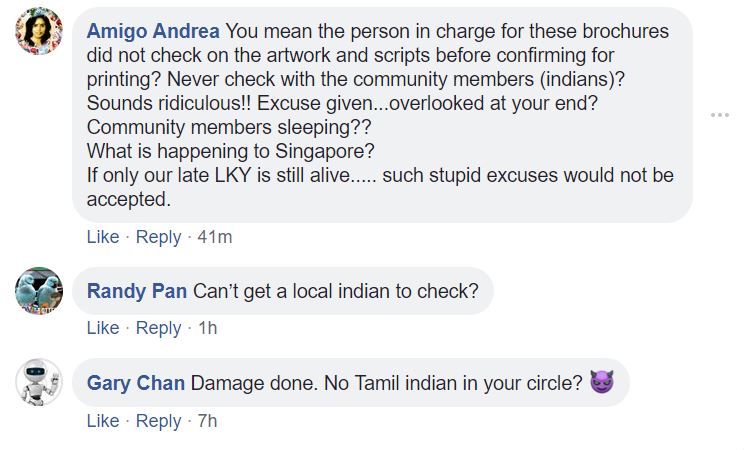 Meanwhile, the errors in Shamsul's flyers join a plethora of inaccurate Tamil translations made by public institutions in recent years. Following major translation misfires in government materials, an official 11-member Review Panel for Government Tamil Translations convened just last year to put an end to such mistakes.
In unveiling a series of measures aimed to eradicate inaccurate translations, Minister of State for Communications and Information and Health Chee Hong Tat said in January 2017 that the priority is to tighten vetting procedures:
"We will require all government agencies to adopt a more rigorous process to vet and check their translated materials before they are made public."
He had earlier said that such mistakes are "avoidable errors [that] should not have been made in the first place," during budget deliberations in Parliament last year.
https://theindependent.sg.sg/pap-member-visiting-homes-in-wp-held-aljunied-grc-butchers-tamil-words-in-flyers/Follow us on Social Media
Send in your scoops to news@theindependent.sg