Singapore – With the recent sentencing of local activist Jolovan Wham to 16 days imprisonment in place of an S$3,200 fine for holding an event without a police permit, the spotlight on human rights and the freedom of speech is as bright as ever.
On February 22, Jolovan Wham shared a Facebook post on human rights by a certain Kokila Annamalai and thanked her for "saying it so well."
The post started with Ms. Kokila stating some of the rights that humans have such as the "right to assemble, to associate, to march and protest peacefully, to speak and write freely, to debate difficult issues openly, to imagine possibilities with and learn from allies across borders, to offer our solidarity to those suffering injustices in any part of the world, to remind each other of our erased histories and alternative futures." She noted that the human rights and social justice issues that Wham has been fighting for are an "important demonstration" of the whole liberation cause.
Ms. Kokila quotes the famous phrase by poet Dinos Christianopoulos which says, "They tried to bury us; they didn't know we were seeds".
The turn of events for Wham may be disheartening and could lead to "chilling effects" on freedom of expression, but Ms. Kolika urged everyone to respond differently. "Let it make us bolder, angrier, more determined, and more recalcitrant," said Ms. Kolika.
She ended her post with a call to action by saying, "Let our academics and artists tire of self-censorship; let our advocacy groups/NGOs tire of arm-twisting and threats to our licenses, funding and IPC statuses. Let each arrest sell more books, politicise more students, galvanise more international allies. Let us choose not to be cowed, let us make repression costly to the state."
https://www.facebook.com/kokila.annamalai/posts/10161755212035085
The members of the public are showing their support for Wham including Amnesty International who released a public statement on February 22 entitled "Joint Statement on the Sentencing of Human Rights Defender Jolovan Wham." The undersigned human rights organisations strongly condemned the "politically-motivated prosecution" of Wham and said that "the imposition of a criminal punishment that stems solely from the peaceful exercise of the right to peaceful assembly directly contravenes international human rights law and standards and is a blatant attempt to silence an outspoken human rights defender."
Amnesty International has called on the Singaporean authorities to drop the charges for said individuals and to "substantially amend all repressive laws that unduly curtail the rights to freedom of expression and peaceful assembly," among others in hopes of "reversing this alarming trend."
Read the full statement below: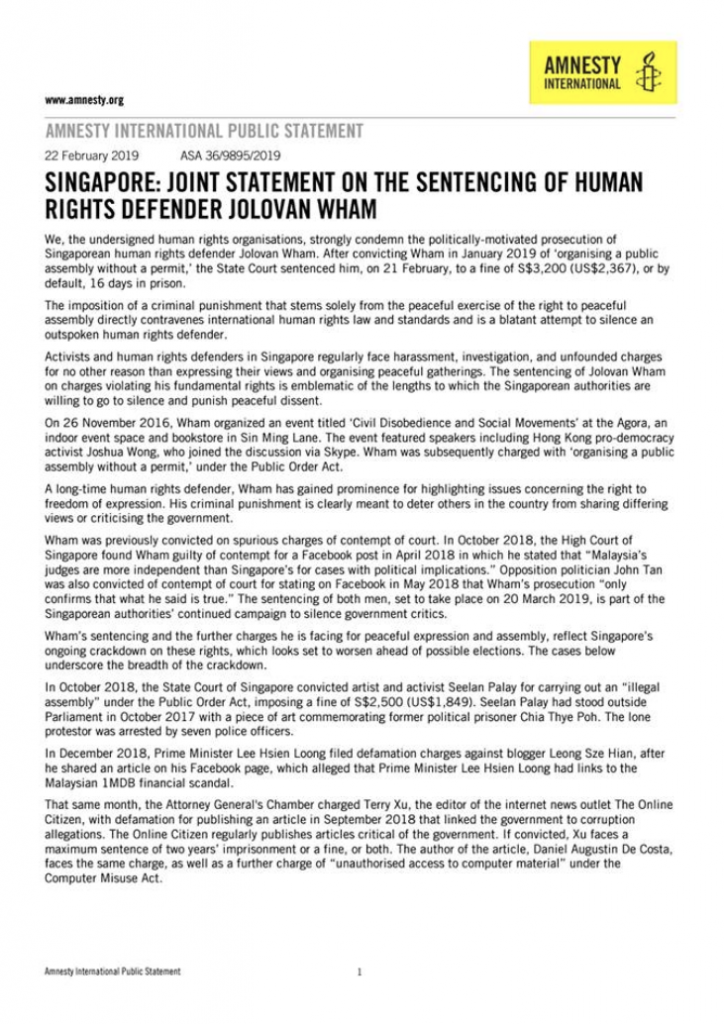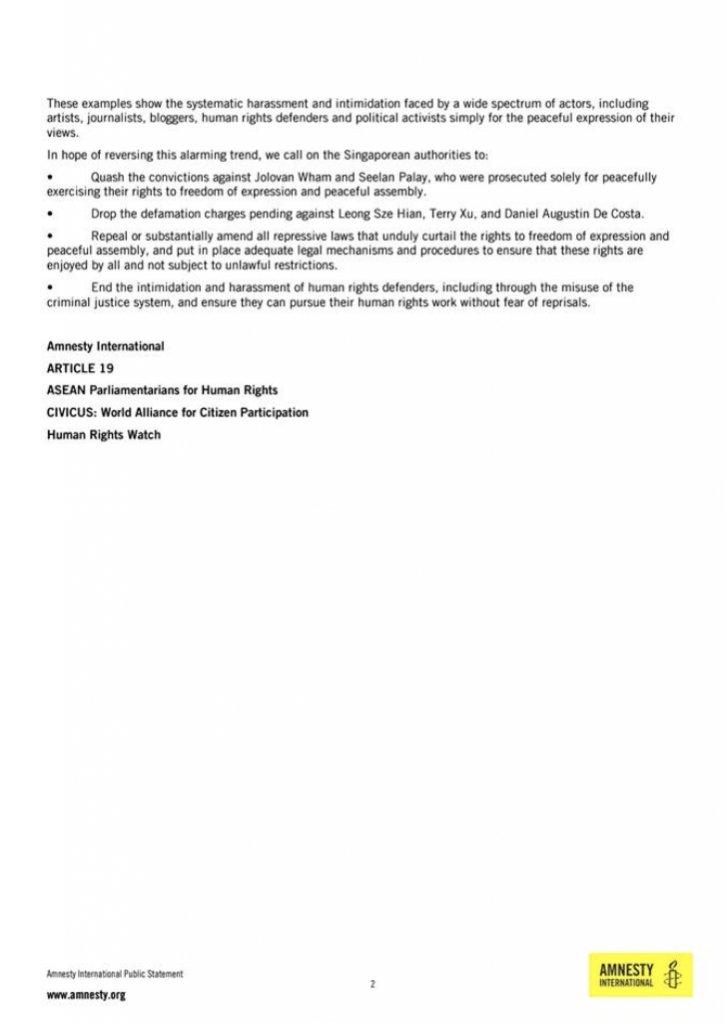 More on the defamation case of Leong Sze Hian:
https://theindependent.sg.sg/breaking-leong-sze-hian-is-suing-pm-lee-for-abusing-the-process-of-the-court/Follow us on Social Media
Send in your scoops to news@theindependent.sg