Johor Bahru–In almost 20 years, Malaysian Prime Minister met for the first time with Sultan of Johor, with the agreement "to be frank and to speak openly" with each other with "nothing to hide" and to communicate their views freely.
Sultan Ibrahim Sultan Iskandar welcomed Dr Mahathir in Istana Bukit Serene, his residence in Johor Bahru on Thursday, Jan 10.
The last time they met each other was when Dr Mahathir stepped down as Malaysia's fourth prime minister in 2003.
The private meeting lasted for 90 minutes, with discussions on many problematic issues the prime minister did not want to divulge.
He said, "We talked about a lot of problems. But I will not mention it here. It is between him and myself."
Dr Mahathir stressed that there was "a free exchange of views" between him and Sultan Ibrahim.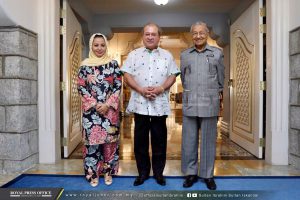 Photo: Screengrab from Facebook/Sultan Ibrahim Sultan Iskandar
"I told him about the people's views towards him and he accepted them well. And we agreed that in the future, if there were any problems, I could see him," the prime minister stated.
The relationship between the prime minister and the Sultan was rocky, full of issues creating friction between them, publicly criticizing each other before the change in government during the May 9 general election last year.
It was in 1990s when Dr Mahathir launched a campaign to curb the excesses of royalty and remove the sultans' immunity from criminal prosecution after two assault cases involving the Johor royal family.
In August 2016, Sultan Ibrahim rebuked Dr Mahathir for his criticism of the state's Bangsa Johor concept, with the latter claiming that it could lead to residents of a state to feel superior over other states.
In October 2017, the Johor Sultan was offended for being Bugis when Dr Mahathir linked the people of Bugis descent to pirates to insult former prime minister Datuk Seri Najib Razak.
In the same year, Dr Mahathir said he was willing to stand trial for lese-majeste for condemning the US$42 billion Forest City project in Johor, a joint venture between a company backed by the sultan and the Chinese corporation, Country Garden.
Last week, Dr Mahathir criticized at Johor's crown prince Tunku Ismail Sultan Ibrahim for speaking up against the Pakatan Harapan government's policies, saying that the crown prince does not understand the concept of a federation.
With this issue, the prime minister stressed "I discussed on the people's view on Tuanku (Sultan Ibrahim) and he accepted it in a positive manner. We agreed that in the future if there is a problem I can communicate with him."
On the election for the next Malaysian King, after Sultan Muhammad V abdicated his throne, Dr Mahathir said it was not brought up during their meeting: "That is an issue related to the rulers, and it has nothing to do with me."
The Conference of Rulers would convene to elect a new Yang di-Pertuan Agong (King of Kings) on Jan 24.
There are speculations that Dr Mahathir's meeting with the Johor ruler could be related to the election of a new king. Some sources said that the Sultan of Pahang, the next in line, is not in good health. Next to him in the rotation is the Sultan of Johor. An election must be done within four weeks of the position becoming vacant.
The meeting of these two important people of Malaysia ended on vintage car ride. Sultan Ibrahim Sultan Iskandar personally drove PM Mahathir to Senai International Airport in a blue first-generation Proton Saga, with plate number Proton 1.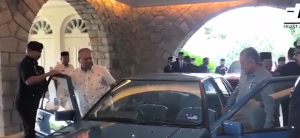 Photo: Screengrab from YouTube
This 34-year-old car was a gift by Dr Mahathir to the late Sultan Iskandar, the sultan's father, in 1985, when the late state ruler reigned as Malaysia's King.
The Proton Saga was the flagship model that marked Malaysia's start as a car producing country. Proton was the brainchild and pet project of Dr Mahathir's during his first tenure as prime minister from 1981 to 2003.
Dr Mahathir was happy to share about his vintage ride: "It's a manual (car), the clock still works properly, driving was very good, no breakdown … I think it's a good endorsement of the Proton car, 34 years still functioning. It has done 22,000km."
A lot of netizens were amazed at the durability of the Proton car the Sultan was driving, considering it is already 34 years old. The oldies yet the goodies. Netizens did not hesitate to compare it with Dr Mahathir.



Photo: Screengrab from Facebook
Also, the gesture of the Sultan was appreciated by some netizens.



Photo: Screengrab from Facebook
But for car enthusiasts, the oldie but shiny blue 1st edition Proton Saga was something.


Photo: Screengrab from Facebook
Follow us on Social Media
Send in your scoops to news@theindependent.sg