Singapore— A restaurant fired an employee for a racist comment written on a receipt that was widely shared on social media. The incident occurred at Fatty Bom Bom, a restaurant at Tampines.
A customer posted the racist comment written on the receipt on her Facebook account. Within a short span of time, it had been shared widely.
The restaurant quickly responded on social media as well, apologising and taking responsibility for the offensive comment, and publicly announcing that the staff member involved had been fired immediately.
It all started when netizen Sabira Ariffing posted a photo of her receipt from Fatty Bom Bom, which showed the unfortunate remark printed on it, "india parekk nakkeling."
She said that she asked her friend, an Indian, to order fried buns at the restaurant. But she lost her appetite when she saw the receipt.
"I took the receipt from him and saw this. I instantly lost my appetite. I feel so hurt and sad. What hurts even more was when they were laughing when they saw the receipt from their end. My friend and I really loved your food. Now I can't even bear to look at it. I'm sorry I ordered only 3 buns. I'm even more sorry that you have such staff."
Later on, she clarified what the comment was. "Update: the cashier basically typed '3 buns only. Stupid Indian pariah' plus another derogatory term for Indian. (not adding fuel to fire, just want to clear things up. I have not contacted the mgmt. Will talk to my friend first and let him decide)"
Ms Ariffin did tag the restaurant, which responded almost immediately both on her wall as well as in a separate post in their own page.
Commenting on her post, Fatty Bom Bom apologised and told her the employee had been fired.
The restaurant stated directly, "We do not tolerate such racist actions."
Furthermore, the restaurant asked for Ms Ariffin's number and she was told that the head of the company wanted to speak to her personally.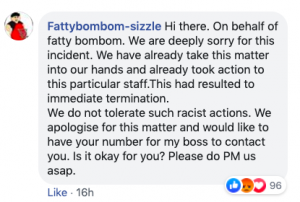 The management may also have been affected by the flood of comments on the post, condemning the employee's racist remarks, with some even calling for a boycott.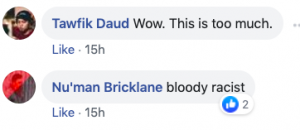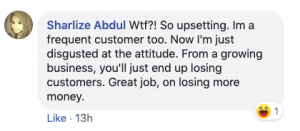 However, some netizens commended Fatty Bom Bom for their swift action in terminating the employee who made the remarks.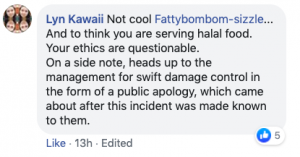 Here is their apology in full:
Firstly, we would like to acknowledge the mistake that one of our staff made earlier, the insensitive and unprofessional comment that went along with the order. 
We would like to sincerely apologise as the management team of Fatty Bom Bom to all of our supporters, regular customers and future customers. We are sorry that we have such negligence within our staff and it has caused so much inconvenience and unhappiness to our loyal customers that really adored us. We sincerely apologise once again for the racist and rude comment that was attached earlier on, and we are truly aware that we're at fault.
We would like to highlight that we have IMMEDIATELY TERMINATED the staff, and we have strict enforcement on such issues. We do not tolerate any rude, insensitive and racism (sic) comments within the team.
Lastly, we would like to assure to our current and future customers that mistakes as such would not happen again in the future. We would promise to do our very best, to serve you with passion and love. We would fully equipped (sic) the staff with necessary staff trainings (sic) and actions so that such incident (sic) would not happen again. Once again, thank you for all of your understanding and forgiveness on this mistake.
Fatty Bom Bom is truly sorry for the above incident." –/TISG
Read related: Singaporean actress starts twitter thread on "deeply ingrained racism" in SG, many agree
Singaporean actress starts twitter thread on "deeply ingrained racism" in SG, many agree
Send in your scoops to news@theindependent.sg