This is not the first time Singapore Airlines (SIA) has confronted another round of scams, as the airline warned the public against email, phone scams, and phishing sites.
The deals offered are just too good to be true but still, there were people who fell prey to these websites masquerading to look like that of the airline.
In the official page of Singapore Airlines, the company posted advising "customers to exercise discretion when revealing personal data to unverified sources". They also have reported the site to be taken down. At this time, the fraudulent website http://www.singaporeair.com-ticketsfree.win cannot be accessed already.
https://www.facebook.com/singaporeair/posts/10157135292783679?__xts__[0]=68.ARCg58hW86dj-jElZIyKtjvPKONVxQtuMo1iz0ivxl0Pz_zyeR4moxA7Y7LWZ4We0g9h4nxi3t7RApVNmVPHCmr0gXzPldfDmj64yW6MIMMwBayQplEKdUbvIuT6W2ekkkd921IFqAMqHnoPvkEsgNf9mHSVo9Td4U8zWB_Y8B5N0yg5J0NcdScb0zkHmCDJ8ZOV0L9YHNM6SVLIPU6DLy-jbzLglWrWKzjCs2_dEk0_KO9rTxY9-VsKMcIAG8mNuFIZOksApPWL_wPG9ksc0_AYAZSux3ySrPqwHoOQLA_p0kqY6K2KgaCdq2Sa1J-ZqWspLry057Y&__tn__=-R
Just a few days ago, SIA was also in the news, when there was a breach of data that affected 285 KrisFlyer accounts, thereby exposing travel details and passport information of the customers.
KrisFlyer, launched in 1999, is the frequent flyer programme of SIA, to allow First, Business and Economy Class customers to earn mileage credits which could later be redeemed for travel vouchers and discounts.
Upholding their slogan, "A Great Way to Fly", SIA encouraged those who received questionable messages, emails, or promos, and when in doubt, it is better to be safe than sorry then go to www.singaporeair.com/en_UK/security/.
Searching through different websites and several news platforms, this is an outline of news involving the airline and phishing scams to its customers.
In May 2017, Singapore Airlines warned customers of phishing scams of KrisFlyer loyalty programme. The scam was sent to different accounts informing them that they have been selected for a draw or have won air tickets and then prompting them to enter his/her personal details. To make it more authentic, scam callers are also able to modify their caller ID to imitate SIA's official telephone numbers.
In Aug 2017, SIA warned customers of an e-mail stating that Singapore Airlines is giving away free tickets for its 70th anniversary.
In Nov 2017, a scam was circulated on messaging app WhatsApp, asking possible victims to share a link with 20 friends to win free first-class SIA tickets.
In Dec 20 of the same year, the police asked the public to be beware of fake Singapore Airlines phishing websites. An e-mail was circulated from a fake "Singapore Airlines", asking the victim to take part in a customer satisfaction survey with the promise of a reward, by clicking on links that unlock their accounts, instructing them to enter their personal information and bank account details such as credit card numbers and card verification value for verification. Without any idea, the victims received one-time passwords on their mobile phones, which they were prompted to key into the website. Scammers then used the victim's credit cards; the owner received SMS notifications on foreign transactions they did not do.
In March 2018, SIA warned customers against scam on winning air tickets. Scam asked for customers' personal data to participate or claim a prize of air tickets.
In April 2018, Singapore Airlines investigated after one woman customer lost 76,000 KrisFlyer miles in alleged hack.
In June 2018 SIA asked to take precautions on social media posts, phishing sites similar to official SIA website. Some Facebook users have shared a link from a fraud singaporeairlines.com-flyco website. The link was "Singapore Airlines offers 2 tickets to EVERYONE for ONLY $1! To celebrate its 45th anniversary".
What seems to be the problem and what should be the solution to this perennial scam that has always encroached Singapore Airlines? Maybe it is the time to look into the security measures and install the latest counter scam software to safeguard the airline in its business and reputation as well as the data, money of their customers, their flyers.
On the other hand, with continued awareness and vigilance against scammers, the Singapore Police Force disseminated advisory on this.
Photo: Screengrab from YouTube
Let us take a look at what were the perspectives of the netizens, especially that flying nowadays has become a lifestyle already. They were skeptical that airlines, especially in Singapore, would give away free tickets.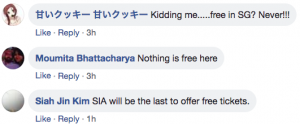 There were also who ranted about all these scams and how people can still be fooled by this.




Follow us on Social Media
Send in your scoops to news@theindependent.sg