Halle Bailey has sparked speculation among fans that she may be pregnant based on new photos featuring her and her boyfriend DDG. Last Friday, the "Little Mermaid" actress was seen in Santa Monica, California, wearing conspicuously oversized clothing while out running errands with her rapper beau.
In the photos, Bailey, 23, was dressed for comfort in loose-fitting light grey sweatpants, a dark grey hoodie over a red T-shirt, and comfortable slides over black socks. Her hair was pulled back into a bun, and she appeared in good spirits, frequently smiling for the paparazzi.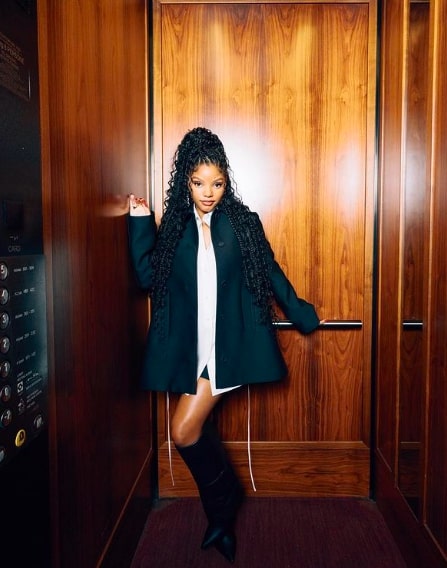 Wearing couple outfits
DDG, whose real name is Darryl Dwayne Granberry Jr., matched Bailey's relaxed style with dark grey sweatpants, a black fitted T-shirt, black sneakers, and a long gold necklace. He comforted his girlfriend by gently caressing her back and even putting his arm around her shoulder as they walked and talked.
The couple was photographed with gauze taped near their elbows, suggesting they may have visited a medical centre. Bailey was also seen carrying a large Louis Vuitton black tote bag and talking on her phone.
Little Mermaid star pregnancy rumours
Shortly after the photos were published, fans flooded Bailey's Instagram posts with comments and questions about her baggy clothing, with many speculating about a potential pregnancy.
Little Mermaid star Bailey has not addressed the pregnancy speculation, and her representative did not immediately respond to Page Six's request for comment.
Baby bump
Rumours about Bailey's pregnancy began when she was seen with what appeared to be a baby bump in one of DDG's videos. She further fueled speculation by wearing a long, flowy orange dress at the 2023 MTV Video Music Awards on September 12. Sources indicated that she was cautious about how she interacted with others at the event, suggesting she may have been trying to conceal her pregnancy.
Bailey and DDG first sparked romance rumours when they were seen together at an Usher concert in January 2022 and later confirmed their relationship two months later./TISG
The photo above is from Instagram
The post Is The Little Mermaid star Halle Bailey pregnant? appeared first on The Independent News.