Hong Kong – Mulan actress Liu Yifei is facing backlash for publicly voicing her support for Hong Kong police on Weibo, a popular Chinese social media platform.
The actress, who will be playing Mulan in the upcoming live-action remake of Disney's Mulan in 2020, shared a post on Weibo on August 14 which showed support for Hong Kong police.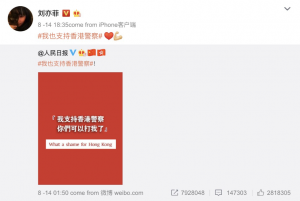 "I support the Hong Kong police," read the post. "You can beat me up now," added Liu.
"What a shame for Hong Kong," the actress remarked.
The post Liu shared was a trending campaign promoted by the People's Daily, the Chinese Communist Party's official newspaper of record. Numerous Chinese celebrities also shared the same post.
Since June 2019, Hong Kong has been experiencing protests caused by a controversial extradition bill proposed earlier this year. According to Hong Kong leader Carrie Lam, the bill has been suspended, however the fight for Hong Kong continues.
Read related: As protest rallies escalate, Singaporeans advised to postpone travels to Hong Kong
Liu's move in sharing the post affected her career as many netizens took to Twitter to show their disappointment with the actress. Many called for the boycott of Liu and Disney while using the hashtag #BoycottMulan.
The hashtag, which started on August 16, has over 24,000 tweets to date.
Many posted photos of the incidents during the protests and tagged the actress, asking her if that's what she supported.
For those who wanna know what have the Hing Kong Police Force done, this photo shows some of them, just a little part actually.

This is the HK Police Force that the neutralized American Chinese actor Liu Yufei is supporting.

#BoycottMulan pic.twitter.com/DFhiCG2399

— Kyw Won (@KywWon) August 17, 2019
Others threw shade on the actress by comparing her to the character she's playing.
We can't support a movie whose lead actress endorses police brutality. #BoycottMulan pic.twitter.com/FcRAIcl9FY

— Stacey (@staceychanmusic) August 17, 2019
"Mulan is one of the few female-led Disney movies that isn't about a damsel in distress who is need of saving by a man," read one comment. "Instead, the story of Mulan centres around a brave woman who stands up and fights for what is noble and just."
To compare Mulan to Liu, the comment added, "Yifei doesn't exemplify Mulan at all in real life, and it's actually pretty ironic that she plays that role."
"By showing support for the HK government and police force, she is essentially endorsing their acts of brutality against HK people."
Regardless of who started what, the comment written by a Stacey Chan noted that "violence is never the answer and should not be justified or supported."
Ms Chan continued by saying that Liu enjoys freedom and democracy in America "whilst millions of HK citizens worry about their city, losing what little is left of their autonomy."
"It's truly a shame for everyone else that has worked hard on this movie," said Ms Chan. "But we simply can't support a movie whose lead actress is so ignorant and tasteless."
Amidst all the comments, Liu seemed unfazed by the backlash and posted the following comment.
"If we're not on the same terms, let's part ways then. (Laughing emoji)"
Meanwhile, Disney has not provided a comment on the matter.
Send in your scoops to news@theindependent.sg