Google got delicious and satisfied the palate, as Google Doodle featured Nasi Lemak as the national dish of Malaysia.
The 40-second animation showed how nasi lemak and its condiments were made, from the boiling of rice, frying of peanuts, anchovies, and chicken, and served it with sambal or packed in banana leaf.
Titled "Celebrating Nasi Lemak", the rice recipe was first created as a hearty breakfast for farmers in southeast Asia. Illustrated by Alyssa Winans, Google said nasi lemak is often sold at roadside stalls in a bungkus or wrapped in banana leaf or brown paper. It is so popular that it is also eaten for lunch and dinner, too.
Google Doodle described the "humble delicacy" as a rich, fragrant and spicy dish that is "considered the national dish of Malaysia".
Nasi lemak translates to "rich rice" but according to popular belief, nasi lemak got its name from the ingredient used to make it; "nasi" means rice, while "lemak" which translates to fat or enrichment referring to the coconut milk as one of the ingredients in which the rice is cooked.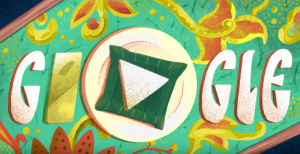 Legends tell a story surrounding the dish, the daughter, Seri, of a widow named Mak Kuntum accidentally spilled coconut milk into the rice pot one day and was discovered.
"What did you cook?" Mak Kuntum asked and her daughter answered: "Nasi le, Mak!" (Rice, mother!)
There are many versions of nasi lemak, each reflecting Malaysia's multi-ethnic melting pot of Malay, Chinese, Indian, and other indigenous and imported cultures.
The video highlighted the fundamental recipe which is rice cooked with santan or coconut milk and flavoured with pandan (screwpine leaves) and galangal root, served with ikan bilis (fried anchovies), crispy peanuts (skin on), sliced cucumber, hard-boiled egg, and sambal (chilli paste) or a splash of tamarind juice, with an optional piece of fried chicken or beef rendang on the side.
The sambal, a hot sauce, is regarded to be the special ingredient in nasi lemak, "the soul of the dish" that links all the ingredients together.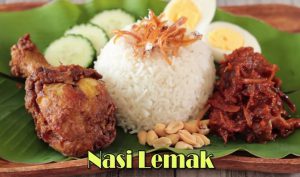 This Malaysian favorite rice dish is also enjoyed and craved in other Southeast Asian countries like Singapore, Indonesia, and Thailand, with their own versions of such.
In Singapore, omelette, fried chicken, and curry are side dishes; while in Thailand, nasi lemak is paired with Thai's favorite dish, tom yam sauce.
In Indonesia, a similar dish is popular in Riau, and different versions of it called nasi uduk in Jakarta, nasi gurih in Aceh and nasi liwet in Java. Coconut milk rice with a variety of unique condiments and toppings are still the ingredients.
Here is a nasi lemak recipe from BBC Food recipes :
Ingredients
For the rice:400ml tin coconut milk
thumb-sized piece fresh root ginger, peeled and finely chopped
1 lemongrass stalk
350g basmati rice
salt
1 piece pandan leaf, tied in a knot, to serve
For the sambal (sauce):
2 tbsp vegetable oil
1 onion, thinly sliced
1 garlic clove, finely chopped
1 tsp shrimp paste
1–2 tsp red chilli paste
250g/9oz dried anchovies, soaked in water and drained
1 tbsp caster sugar
250ml/9fl oz tamarind paste mixed with 400ml/13fl oz water
For the garnish:
1 free-range egg
vegetable oil for deep frying
handful small dried white anchovies
handful peanuts, skin-on if possible
½ cucumber, thinly sliced
Method
Put the coconut milk, ginger, lemongrass, rice and a pinch of salt in a large saucepan.
Add 400ml/14fl oz water, stir and cook over a medium heat for 10–15 minutes, or until the rice is cooked and all the liquid has been absorbed.
To make the sambal, heat the oil in a frying pan and sweat the onion and garlic for 5–7 minutes, until soft.
Add the shrimp paste, chilli paste and most of the soaked anchovies and stir.
Add the sugar and a pinch of salt and pour in the tamarind water.
Simmer until it reduces to a thick paste and set aside.
Meanwhile, to prepare the garnish, boil the eggs in water for 7–10 minutes; the yolks should be firm. When they are cool enough to handle, peel off the shells and cut the eggs in half.
Preheat the oil in a deep-fat fryer to 180C.
Deep-fry the dried white anchovies for 3 minutes, or until crispy.
Toast the peanuts in a dry frying pan.
Pick the lemongrass out of the rice and discard. Put the rice in a small bowl and press down until it is compacted.
Upturn the rice in the middle of the pandan leaf.
Arrange the egg, peanuts, cucumber and remaining anchovies around the rice and scatter over the crispy anchovies.
Preparation time: less than 30 mins
Cooking time: 10 to 30 mins
Serves 4
Follow us on Social Media
Send in your scoops to news@theindependent.sg